Planning a trip to Wisconsin? Or, perhaps you're considering a more permanent move to America's Dairyland, aka The Badger State? We understand, as proud Milwaukeeans, we have a lot of love for our home state. But what makes Wisconsin so special you might ask…
Wisconsin cannot claim to have the international fame of Florida or Texas. We can't boast of having the year-round good weather of much of California, or the countless iconic landmarks of New York.
We do, though, have a series of cities and features in Wisconsin that make this a pretty special place to live! With this in mind, we've decided to share with you our top pros and cons of living in Wisconsin.
From the snowy to the strange, get ready for a list that answers whether Wisconsin is or isn't the place for you!
And if you'd like to experience Wisconsin's most famous city as part of a fun, activity-filled tour, take a look at our full selection of Milwaukee tours and Milwaukee Custom Tours & Rentals.
Pro: Milwaukee
We'll begin with the part of Wisconsin we know best: Milwaukee! Yes, Wisconsin's largest city is one of the best places to visit across the state and offers plenty to do, no matter your age or interests.
Famed for its long tradition of beer making (hence the nickname Brew City), Milwaukee is a charming city that manages to harmoniously blend the old with the new. Get a feel for Milwaukee's historic architecture and creative credentials by taking a walk through the neighbors of Downtown Milwaukee and the Historic Third Ward where you'll find lots of public artworks.
Sports fans can catch a Major League Baseball game at American Family Field, home to the Milwaukee Brewers. Meanwhile, music and theater fans can explore the city's tradition of hosting festivals; if you're lucky, you may even get to attend Summerfest, one of the world's largest music festivals.
If traveling with kids, be sure to explore Milwaukee's many museums, such as the Milwaukee Public Museum, the Betty Brinn Children's Museum, and the Harley Davidson Museum. (Looking for more family-friendly ideas? Have a read of our Things to Do in Milwaukee With Kids blog.)
If you're visiting Milwaukee for the first time, we recommend taking our Iconic Milwaukee Tour which takes you around many of the city's most famous landmarks and districts.
Explore the City Tours MKE blog to learn more about things to do in Milwaukee. We've even compiled a Local's Complete Guide to Milwaukee that features recommendations for places to eat and drink.
Con: There's a lot of snow in Wisconsin…
Wisconsin experiences an annual average of 48 inches of snow! That's almost double the national average. And although not common, there have even been years when Wisconsin has still experienced snowfall into the summer months!
In recent years, the Milwaukee Brewers have seen their opening MLB games rescheduled due to bad weather and snow. Essentially, in Wisconsin, the winter can drag into spring, and spring can extend way into summer.
If you're used to sunny weather all year round or mild winters, Wisconsin's weather may come as a shock. However, with the snow comes the opportunity for winter activities! Head to Travel Wisconsin for their list of 7 Can't Miss Winter Activities in Wisconsin.
Pro: You experience all four seasons in Wisconsin
Yes, you've just heard us complain about the weather, but it also has its upsides!
Unlike some other states, Wisconsin will guarantee you four distinct seasons: chilly winters, bright springs, sunny summers, and crisp falls covered in gold and orange leaves.
Milwaukee's position on the banks of Lake Michigan means summers won't get too hot and winters rarely get uncomfortably cold.
Pro: Madison, Wisconsin's capital city
While Milwaukee may be Wisconsin's largest city, the state's capital is actually Madison.
Culture vultures will enjoy their time in Madison with plenty of historical buildings and museums being found here. We recommend visiting the mammoth Capitol Building before heading to the State Historical Museum to learn all about Wisconsin's past.
Those in town with kids will want to visit the interactive Madison Children's Museum – highlights include the Rooftop Ramble (a green space on the museum's roof) and the Possible-opolis (a large interactive puzzle for your kids to enjoy).
Lovers of the outdoors will also be please with the beauty of Madison's lakes and the city's excellent cycling trails.
Con: No blockbuster attractions…
While Wisconsin has a lot of diversity of experiences on offer across the state, it can't boast of internationally acclaimed attractions as you'd find in some of the USA's more tourist-centric destinations.
For some, this can be a con. Especially when visiting for a vacation, some travelers like to tick major tourist sites off their bucket list. In this sense, Wisconsin could be said to lag behind the neighboring state of Illinois.
However, for those of us who live here, we're pretty content to sail under the radar at times. Wisconsin towns like Spring Green and Lake Geneva offer plenty of picturesque charm within enormous tourist crowds.
Pro: Spotted Cow Beer
Wisconsin (and particularly Milwaukee) has a rich brewing tradition that is quite unlike anywhere. Previously, we've written our Local Guide to Milwaukee Dive Bars and Cocktail Lounges and a History of Tied Houses in Milwaukee, but we've yet to discuss the delicious Wisconsin beer that is Spotted Cow.
Brewed by the New Glarus Brewing Company located on the outskirts of New Glarus, Spotted Cow is a cask-conditioned farmhouse ale. Brewed using the famous German Purity Law, Spotted Cow is made using just four ingredients: barley, hops, yeast, and water.
The slightly sweet, light taste of this ale makes it perfect for just about every occasion – there's a reason why it's won numerous awards. When you're in Wisconsin, be sure to pick up a bottle.
Con: Terrible Wisconsin roads
A recent study places Wisconsin third on a list of states with the worst roads in the country.
In urban areas, as much as a third of all roads are deemed to be in a poor condition. And of even more concern, over half of the state's 'major roads' are in need of repair.
And all this damage to the roads inevitably means that Wisconsin's springs are filled with obstructive construction works.
If you're coming into Milwaukee for the weekend and don't fancy driving, why not leave it to us? WIth our Milwaukee Custom Tours & Rentals option, we can build a custom tour package just right for you.
Pro: Fish boils and supper clubs
As we've discussed before, Wisconsin is a state famed for its hospitality. Well, there's no better way to enjoy the company of friends, family, and new acquaintances than over plates of delicious food.
Synonymous with Wisconsin areas like Door County, Port Wing, and Port Washington, fish boils are rooted in the traditions of Scandinavian immigrant communities who came to Wisconsin in the 1800s.
Originally developed as a way of feeding large groups of fishermen or lumberjacks, a fish boil is a meal consisting of fish and potatoes prepared in a large, cast-iron kettle. Normally using white fish, a fish boil provides tasty, nourishing food and the chance to meet like-minded people. Check out Travel Wisconsin's Five Delicious Door County Fish Boils for ideas on where you partake.
Elsewhere, you can get a taste of Wisconsin hospitality by attending a supper club. Another century-old tradition, supper clubs are hosted in a variety of locations across Wisconsin, each with its own unique take on this social dining experience. Generally, the food follows a classic pattern: Friday – fish fry; Saturday – prime ribs; Sunday – broasted chicken.
Visit Wisconsin Supper Clubs for a list of ongoing supper clubs.
Pro: Sports in Wisconsin
Sports fans will feel right at home in Wisconsin. The state is home to three heavyweight sports teams across three of America's most popular sports: Green Bay Packers (NFL), Milwaukee Brewers (MLB), and Milwaukee Bucks (NBA).
Green Bay Packers
Based in Green Bay, the Green Bay Packers are the third-oldest franchise in the NFL. Though rooted in a small Wisconsin city, the Packers have won the Super Bowl four times and rank among the most valuable sports franchises in the USA. The team plays out of Lambeau Field in Green Bay, a historic 1957 stadium – catching a game is a must if you are visiting during the season.
Milwaukee Brewers
The Brewers have been based in Milwaukee since 1970 and while they've never won the world series, they've nonetheless gathered a vigorously loyal following over the decades. In fact, these days you'll see Brewers merchandise all over Milwaukee.
If you're in town and can attend a game, we recommend tailgating outside the American Family Field arena on game day – tailgate parties involve socializing outside the game, and enjoying barbecue and beer in good company. (You can even take the Ultimate Milwaukee Tailgate Tour with City Tours MKE.)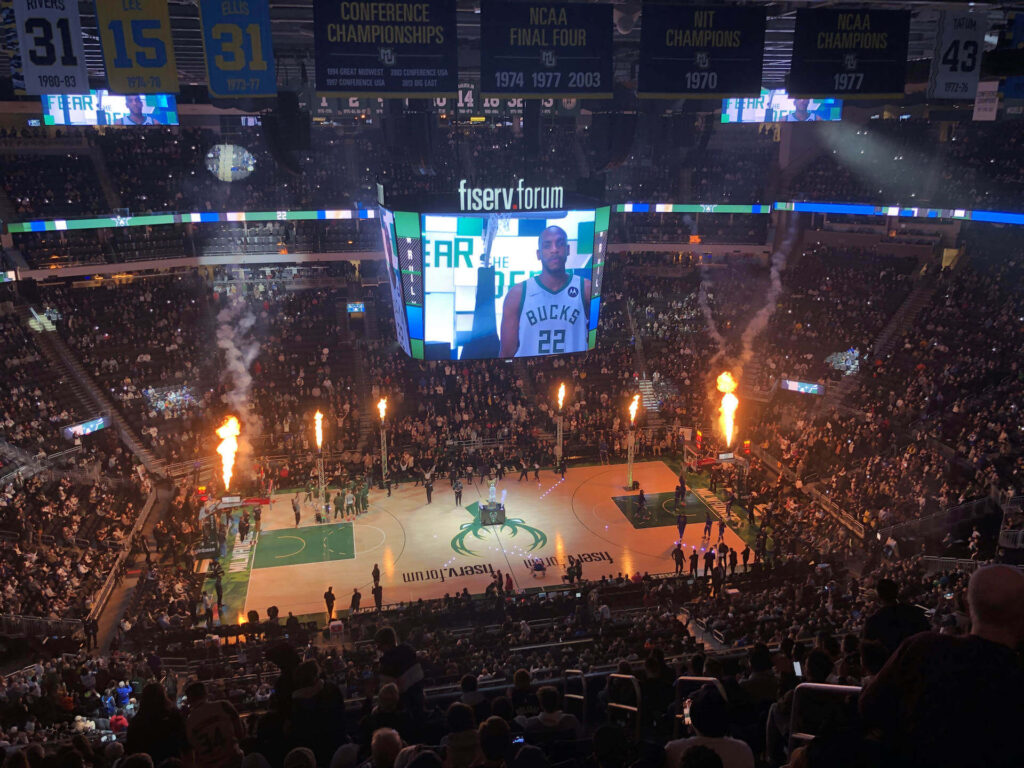 Milwaukee Bucks
Founded in 1968, the Bucks have won two NBA championships, most recently in 2021. Basketball fans in Milwaukee can attend games at the Fiserv Forum, a nearly built arena only opened in 2018.
That's it! Our list of some Wisconsin pros and cons has come to an end.
As you can see, the final score heavily favors a pro-Wisconsin conclusion! And why wouldn't it? Wisconsin is a state possessing wonderful natural landscapes, great cities, and plenty of cultural activities – don't hesitate, come visit us.
If you have any questions about this blog or our tours, get in touch.