Milwaukee isn't known as Brew City for nothing! Walk around town and it feels like there's a bar on every corner. From retro-style classic bars to trendy wine bars and brewpubs, there's something to suit the tastes of every thirsty reveler in MKE. 
At City Tours MKE, we love nothing more than taking our guests around some of Milwaukee's best watering holes on our Milwaukee Beer Tours and Brewery Tours. So, today we thought we'd run through some of our favorite dive bars and cocktail lounges – two styles of drinking establishment that Milwaukee excels in!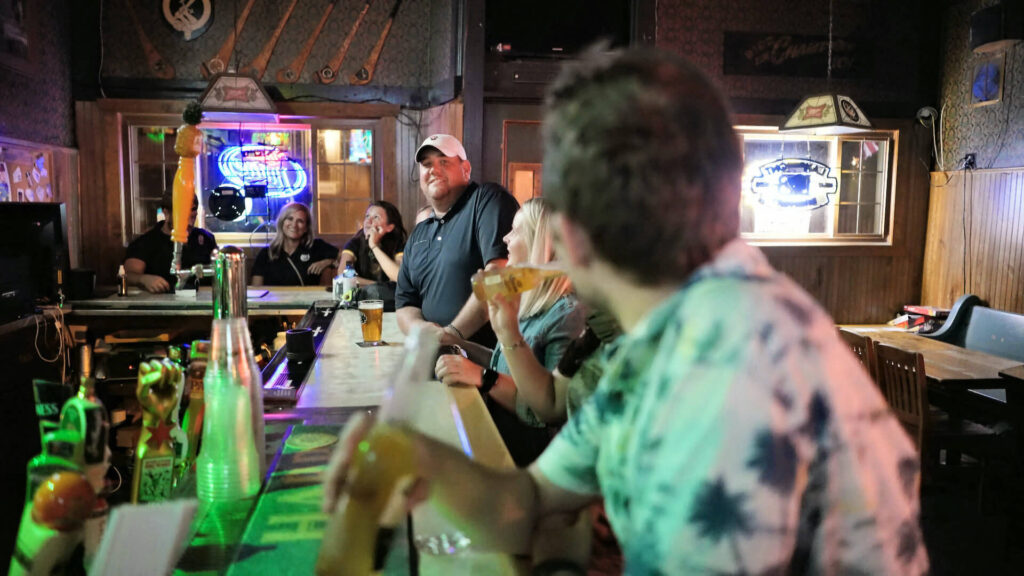 Dive Bars in Milwaukee
So, "what is a dive bar?" you might ask.

A dive bar is typically a small, unglamorous, old-style bar with inexpensive drinks. Never exactly trendy, the dive bar is always informal and inconspicuous. Yet, despite their modest appearance, we think of dive bars as the city's overlooked gems!

Such bars are sometimes referred to as neighborhood bars or corner taps, where local residents gather to drink and socialize. To outsiders, they can sometimes carry an air of being disreputable, though it's rarely justified. Dive bars tend to have sassy, brilliant bartenders and excellent drink promotions.

With dim lighting, outdated decor, neon beer signs, and an array of local clientele propping up the bar, dive bars have a cinematic charm. They are an authentic window into a city's drinking culture.
Below are a few of the dive bars we visit on our Milwaukee Dive Bar tour.
MKE Dive Bars We Visit & Recommend
Wolski's Tavern
Wolski's Tavern dates back to 1908 and still maintains much of the tavern's original interior, including the historic Brunswick back bar. Wolski's is inconspicuously located on Milwaukee's lower east side.
They feature free popcorn, dart boards, a pool table, an excellent retro beer selection, and a covered private outdoor patio.
They are also famous for their "I Closed Wolski's" bumper stickers, which can be found decorating the cars of former customers around the world. Stickers are earned, not purchased – they simply require a late night at the bar!
Popular with a diverse crowd of regulars, students, and visitors to MKE, Wolski's guarantees a great atmosphere and tasty beers on draft.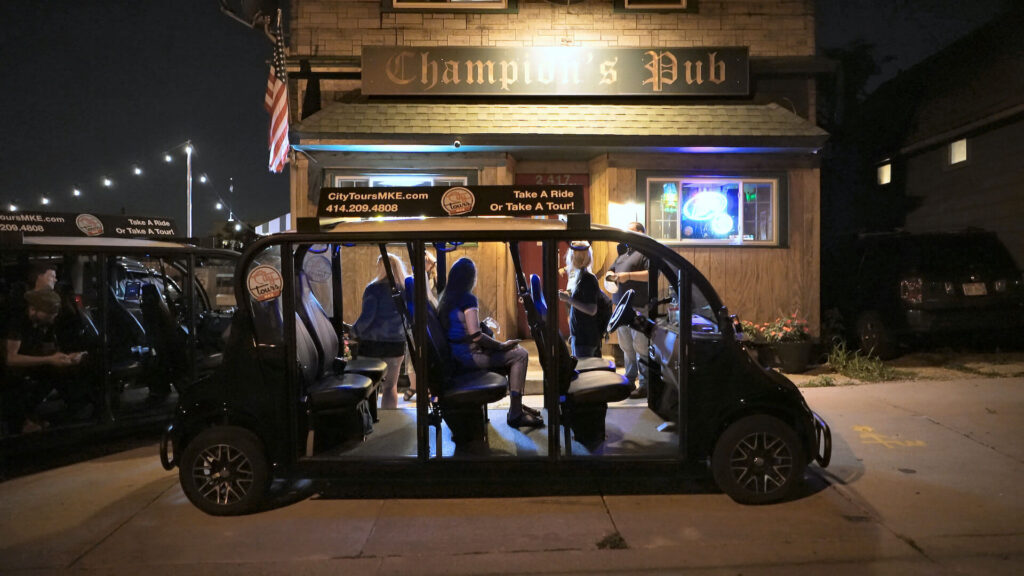 Champion's Pub
Established in 1956 and now in its third generation of family ownership, Champion's Pub is a great place to escape the usual bustling bar crowds and hideout for drinks and conversation.
As a neighborhood pub, there are plenty of unique and friendly folk to chat to, or partner up with for a game of shuffleboard, cribbage, Golden Tee 2018, or Silver Strike Bowling.
It is a real, modest, quiet, and hassle-free atmosphere and the bar possesses a large selection of retro beers. There's normally a great selection of music being played, but the volume is comfortable – encouraging conversation rather than drowning it out.
Champion's also has an outdoor deck and large backyard, perfect on sunny afternoons and warm evenings.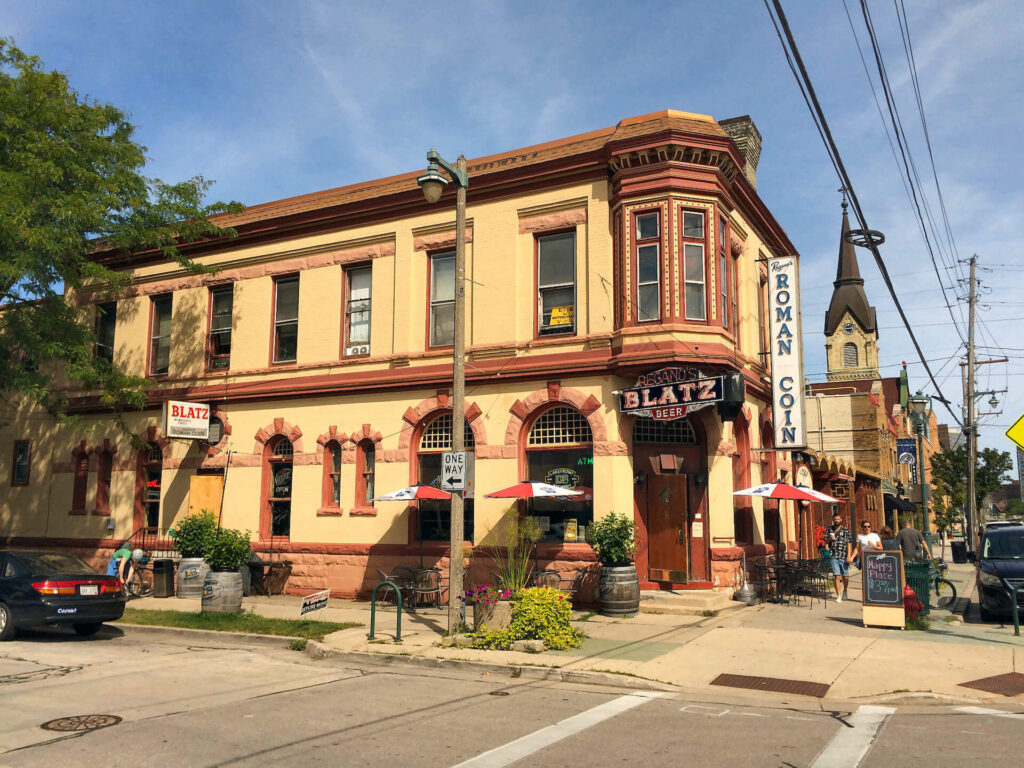 Regano's Roman Coin
The Roman Coin is not about aesthetics, it's about the soul.
The soul of old Milwaukee lives in this former 1890 Pabst-tied house. This is Milwaukee's closest thing to Cheers. Even if everybody doesn't know your name, after a beer or two you'll find yourself making new friends and chatting with them like you've known them your entire life.
You may even make some new four-legged friends, the Roman Coin loves dogs and is a popular choice for thirsty dog owners.
There is something decidedly old-school about Regano's. It's not just the old photos on the walls or the worn-in floorboards or the fact that some of the regulars have clearly been coming in for decades, no, it's a special something in the atmosphere.
Order some retro beers and enjoy a few games of pool!
Cocktail Lounges in Milwaukee
A lounge is usually an establishment that serves mixed and specialty drinks, offering a more elegant, intimate ambiance that allows you to relax with soothing low-volume music. One can expect sizable, comfortable seating so that customers can make themselves at home for more extended periods as they chat over their drinks.

Unlike bars, lounges tend to attract a mix of people that are out to unwind or catch up with loved ones, not those looking to party.
That being said, many of the city's trendiest establishments are cocktail lounges.
There are few things more enjoyable than sharing delicious drinks in the company of your best friends!
While we do not tour the below cocktail lounges, we recommend them if you're heading out for an evening and are looking for a different taste of Milwaukee.
Cocktail Lounges We Recommend
Bryant's Cocktail Lounge
Swanky and historic, this well-known cocktail lounge was founded in 1938 as a Miller Brewing "tied-house." Rumor has it that they were the first cocktail lounge in Milwaukee (and possibly in Wisconsin). They mix several popular drinks that are now Wisconsin supper club classics like the Pink Squirrel, Blue Tail Fly, and the Banshee – all actually invented there.

Expect a jazzy vibe, old-school cocktails, plush velvet walls, and a vast aquarium on their back bar – this place is a must-visit. With some of the best cocktails in town and an environment like nowhere else in Milwaukee, Bryant's is a truly unique choice for a night out.
This southside lounge is a total throwback – a classic – and we absolutely love it.
At Random
A dimly lit romantic spot with a Rat Pack vibe, At Random is a traditional cocktail lounge that has been a staple in its residential neighborhood since 1964.
Having changed little since its opening decades ago, At Random is a time capsule of a lounge. Offering fantastic mid-century ice cream drinks, classic cocktails, and swag lights, you'll be taken with the charm of this place the moment you walk through the door.

All cocktails are made by hand, one at a time. This is a great place for an evening of retro cocktails and a classic Wisconsin welcome.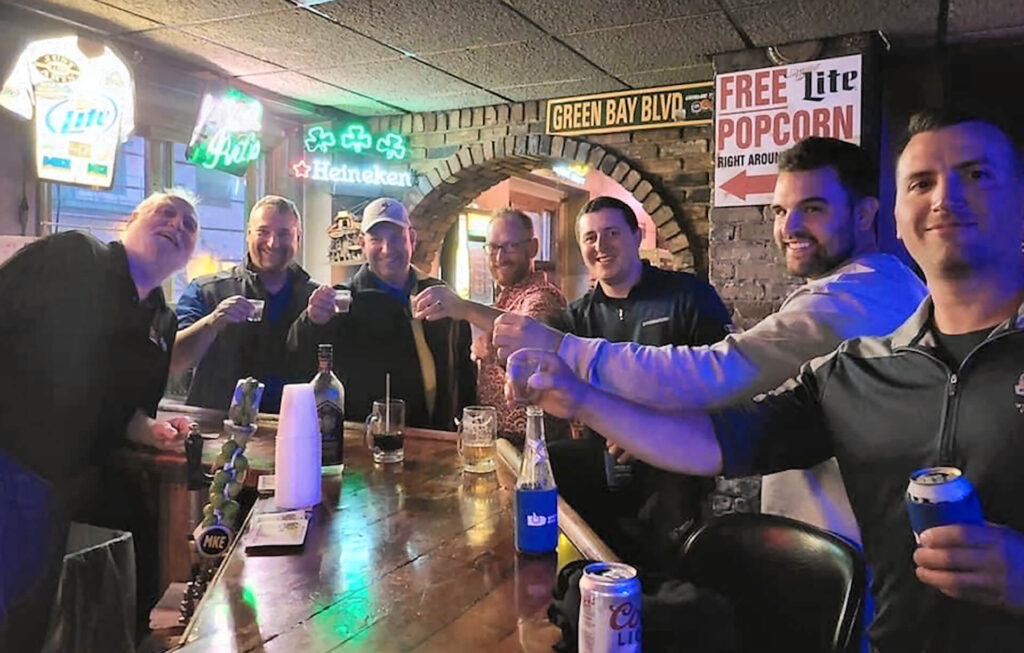 Exploring Bars with City Tours MKE
Ready to start exploring Milwaukee's awesome nightlife? Why not join us for one of our Milwaukee Brewery Tours? A Milwaukee brewery crawl of all the city's breweries would take a very long time, but we'll take you to discover some of our select favorites. Sample a fantastic selection of locally-brewed beers and get insights into the city's brewing history and contemporary microbrewery culture.

Or maybe dive bars sounded like your kind of thing? We have the tour just for you, our Milwaukee Beer Tour: Dive Bars Edition! Join an MKE pub crawl unlike any other. Together we'll explore the best dive bars on the East Side, Brady Street, the Third and Fifth Wards, the Harbor District, and more. Whether your ideal dive bar is a gritty, no-frills affair, or a quaint, old-school joint, our Milwaukee dive bar tour offers something for everyone.
If you have any questions about this blog or our tours, please get in touch.