With its vibrant waterfront, cultural diversity, and an array of exciting attractions, Milwaukee is the perfect destination to soak up the summer vibes. Whether you're a resident or visiting this charming city for the first time, exploring Milwaukee in summer is an absolute must.
To help you make the most of your experience, we've gathered some of our favorite spots in Milwaukee that showcase the city's highlights. In this blog, we'll dive into some of the awesome day trips you can join us on and explore other top summer spots in Milwaukee.
If you're planning a trip to Milwaukee this summer and want a local's perspective, just get in touch! Our local team knows the city like the back of their hand and are here to put the cool in your summer activities. So, let's take a look at the things you can enjoy on your visit.
Take a Trip to Milwaukee's Historic Third Ward in Summer
The Historic Third Ward is a vibrant neighborhood filled with art galleries, unique boutiques, trendy restaurants, and much more.
Begin at the Milwaukee Public Market, a bustling hub of local vendors offering a diverse range of fresh produce, artisanal food, and unique crafts. Stroll through the market, indulge in a delicious snack, or pick up some local delicacies to enjoy later in one of the nearby parks.
As you venture further into the Historic Third Ward, your guide will share stories of the neighborhood's past. Marvel at the stunning architecture blending historic buildings with modern designs. Make sure to visit the Milwaukee Institute of Art and Design (MIAD) for a dose of art.
You can also stop at the Historic Third Ward Riverwalk, a scenic promenade that offers spectacular views of the Milwaukee River. Take a stroll along the riverbank, savoring the tranquility and picturesque sights.
For those seeking a blend of history, culture, and shopping, City Tours MKE's Iconic Milwaukee Tour is a must-try. We'll take you through the city's plethora of sights, including our famous Brewery District, famous museums and hotels, and the Historic Third Ward, among many more places!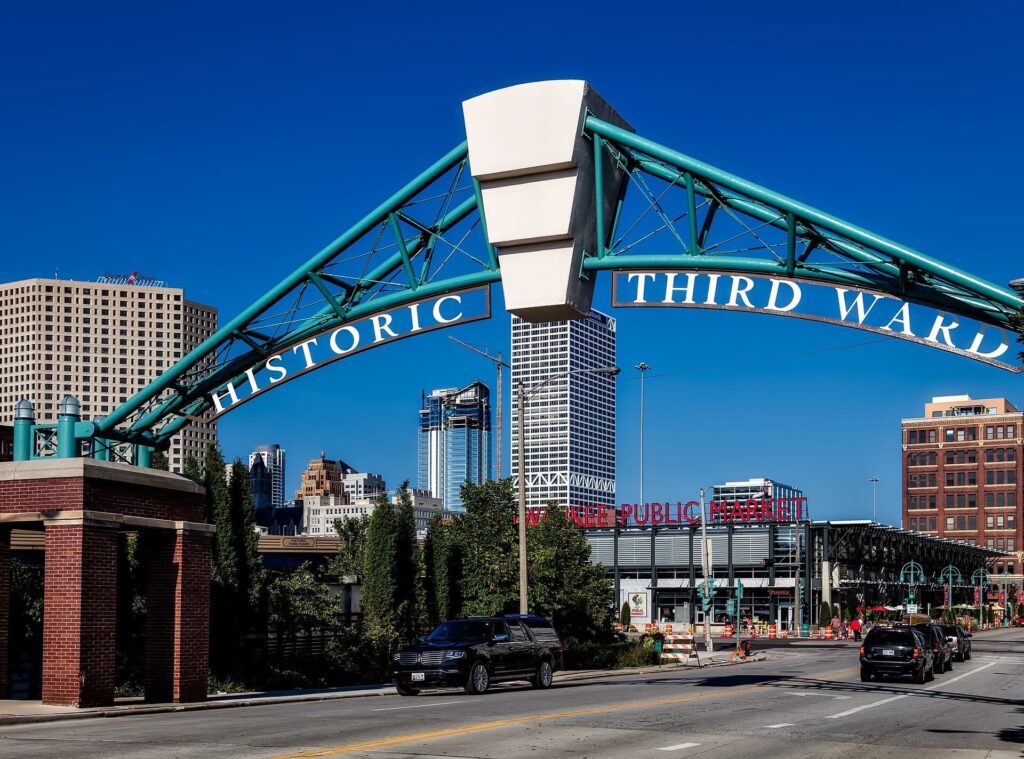 Stroll Milwaukee's RiverWalk in the Summertime
To experience the city's charm and scenic beauty, walk or bike along the beautiful Milwaukee RiverWalk. You'll see the city from a different angle in a laid-back way, soaking up the river scenery as you explore.
This three-mile pedestrian pathway winds its way through the heart of downtown Milwaukee, offering picturesque views of the river, charming bridges, and beautifully landscaped parks.
Enjoy a riverside meal at one of the many waterfront restaurants or grab a drink at a riverside beer garden. The RiverWalk is also home to several art installations, making it an interactive and visually appealing experience.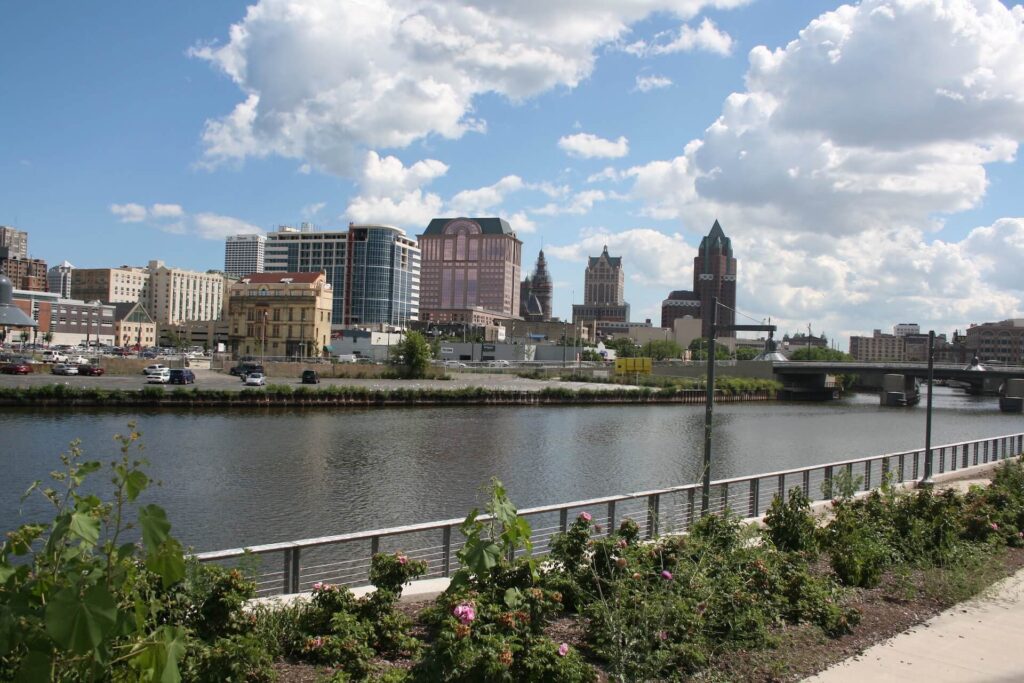 Milwaukee RiverWalk (Source | License)
Soak Up the Sun at Bradford Beach, Milwaukee this Summer
No summer in Milwaukee is complete without a visit to Bradford Beach. Located along the scenic shores of Lake Michigan, this expansive sandy beach offers the perfect setting for sunbathing, swimming, and beach volleyball.
The vibrant atmosphere is contagious, with locals and tourists alike soaking up the sun, playing games, and enjoying picnics. Grab your beach towel, sunscreen, and a good book, and spend a day at Bradford Beach, immersing yourself in the refreshing waters of Lake Michigan.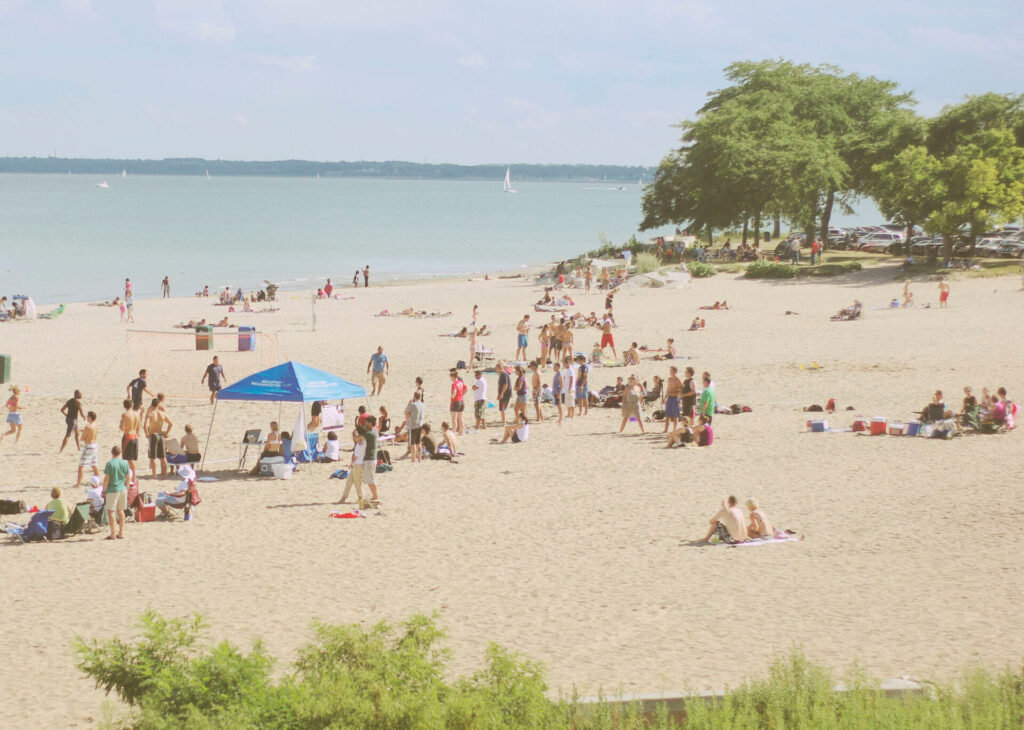 Bradford Beach (Source | License)
Grab a Beer and Explore the Local Craft Brewery Scene this Summer
When it comes to enjoying summer in Milwaukee, exploring its renowned craft beer scene is a must. City Tours MKE's Milwaukee Brewery Tour offers a unique opportunity to discover the city's brewing heritage and sample some of its finest libations.
Milwaukee is home to several brewing giants, including the historic Pabst Brewery, which you can find out more about by reading our blog: Why is Milwaukee Called Brew City?
To support local, smaller breweries, this tour focuses on independent brewers, where you can experience passion and creativity in an array of local flavors. Sample their innovative brews, which often reflect the city's vibrant culture and embrace new trends in the craft beer scene.
Of course, you can tour the bigger breweries, too. If you're a Pabst Blue Ribbon fan, Pabst Brewery is a must-visit. Other local favorites include Lakefront Brewery, where you can witness the brewing process firsthand and unwind in its unique riverwalk beer garden. 
Explore Milwaukee's Lakefront in Summer
Along the picturesque shores of Lake Michigan, there are plenty of sights and activities to enjoy along the Lakefront. From scenic walks along the waterfront to engaging cultural experiences, you'll need more than a day to soak up all the culture and nature waiting for you.
Begin your exploration by immersing yourself in art and culture at the Milwaukee Art Museum, renowned for its stunning architecture and diverse art collection.
For a dose of education and entertainment, Discovery World is a must-visit science and technology museum, featuring interactive exhibits and fascinating aquariums.
Outdoor lovers can take a leisurely bike ride along the Hank Aaron State Trail or the Oak Leaf Trail, reveling in the beautiful lakefront scenery and exploring the charming parks along the way.
You can also experience the beauty of Lake Michigan from a different perspective by embarking on a lakefront cruise. Choose from sightseeing tours, sunset cruises, or even dinner cruises that offer a unique dining experience while enjoying panoramic views of the city skyline and the lake.
Milwaukee's Lakefront After Dark (Source | License)
Join the Party at Summerfest, Milwaukee this Summer
Dubbed "The World's Largest Music Festival," Summerfest is a can't-miss event that takes place annually in Milwaukee. Held at the Henry Maier Festival Park along the lakefront, Summerfest brings together renowned musicians and emerging artists for a 9-day extravaganza.
With multiple stages hosting live performances, a variety of food vendors, interactive exhibits, and breathtaking firework displays, Summerfest offers a true celebration of music and summer.
Grab your friends, get your tickets, and immerse yourself in the energetic atmosphere of this iconic event located on Milwaukee's Lakefront.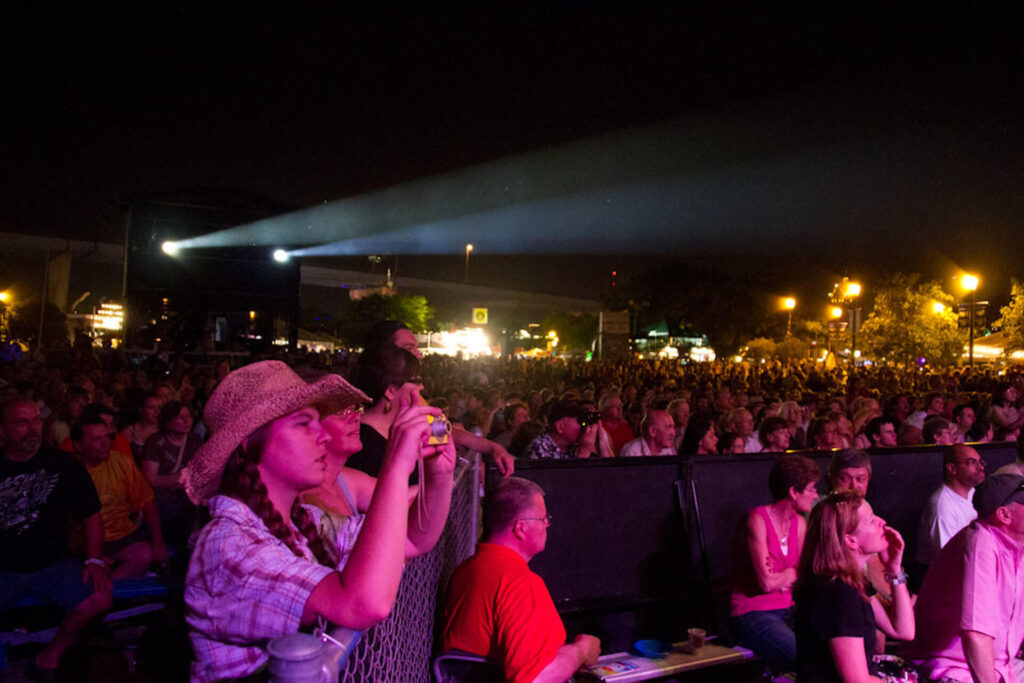 Revelers at Summerfest (Source | License)
Milwaukee truly shines during the summer season, offering an array of exciting experiences and captivating attractions. Are you ready to embark on immersive tours that showcase the best summer spots in this vibrant city? Just get in touch with our local team!
Whether you're a local resident looking to spice up your summer or are visiting Milwaukee for the first time, we hope this list gives you a flavor of what to expect when the sun is shining. If you're looking for even more adventure, check out our Milwaukee tours.