Wisconsin may be known for its cheese, beer, and the Green Bay Packers, but its coffee scene is not to be underestimated. Over the years, Wisconsin has cultivated a thriving community of local coffee shops and roasters, making it an excellent destination for coffee enthusiasts.
By supporting these local businesses, you can not only enjoy a delicious cup of joe but also contribute to the growth and success of these local establishments.
Join us and explore the best coffee Wisconsin has to offer! And if you're traveling in Milwaukee, consider taking one of our unforgettable Milwaukee Tours.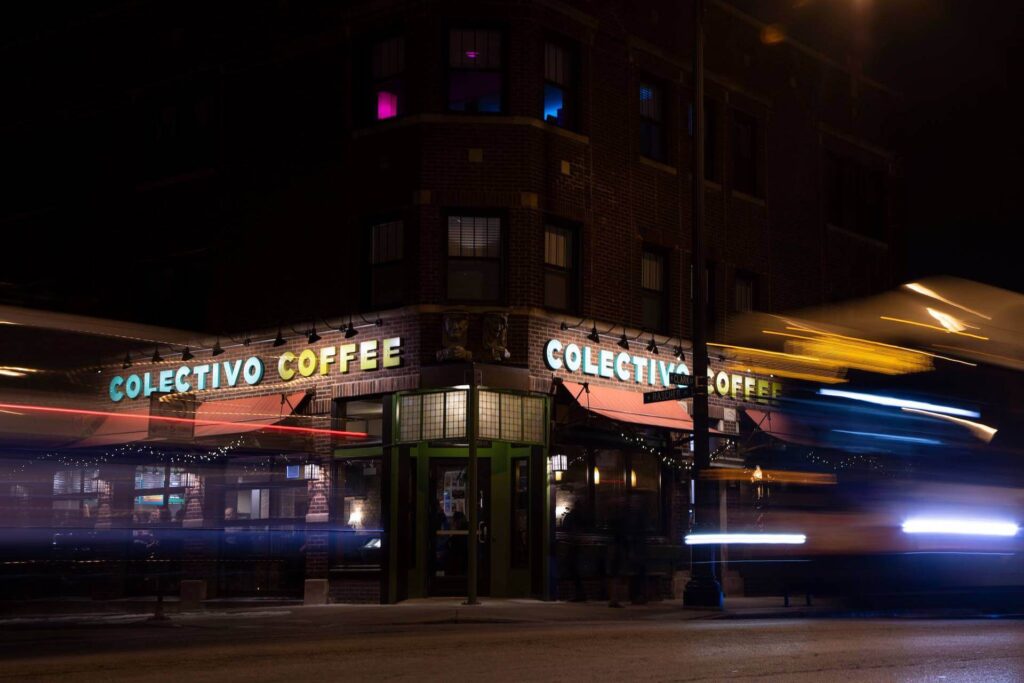 (Source: Colectivo Coffee)
Best Coffee Shops in Milwaukee
Milwaukee, the largest city in Wisconsin, has several outstanding coffee shops. One such establishment is Colectivo Coffee, which boasts multiple locations throughout the city.
Colectivo roasts their beans locally and sources them from farmers with whom they have built long-lasting relationships. Colectivo has become a favorite among locals and visitors alike because of its bold flavors and dedication to sustainable practices.
Another popular spot in Milwaukee is Stone Creek Coffee. This environmentally conscious company offers a wide selection of single-origin coffees, ensuring their patrons can enjoy unique and diverse flavors from around the coffee-producing world. 
Stone Creek Coffee is also dedicated to ethical sourcing practices and frequently hosts educational events to raise awareness about the importance of sustainability in the coffee industry. They're located downtown in the heart of the city. If you're new to Milwaukee and want to see the city's key sights, take our popular Iconic Milwaukee Tour.
Finally, the Anodyne Coffee Roasting Co. is a must-visit for those seeking artisanal roasts and lively entertainment. With a focus on small-batch roasting and a dedication to quality, Anodyne has become a staple in the Milwaukee coffee scene. The company's Walker's Point location is also a popular spot for live music. Visit their site to browse their upcoming concerts.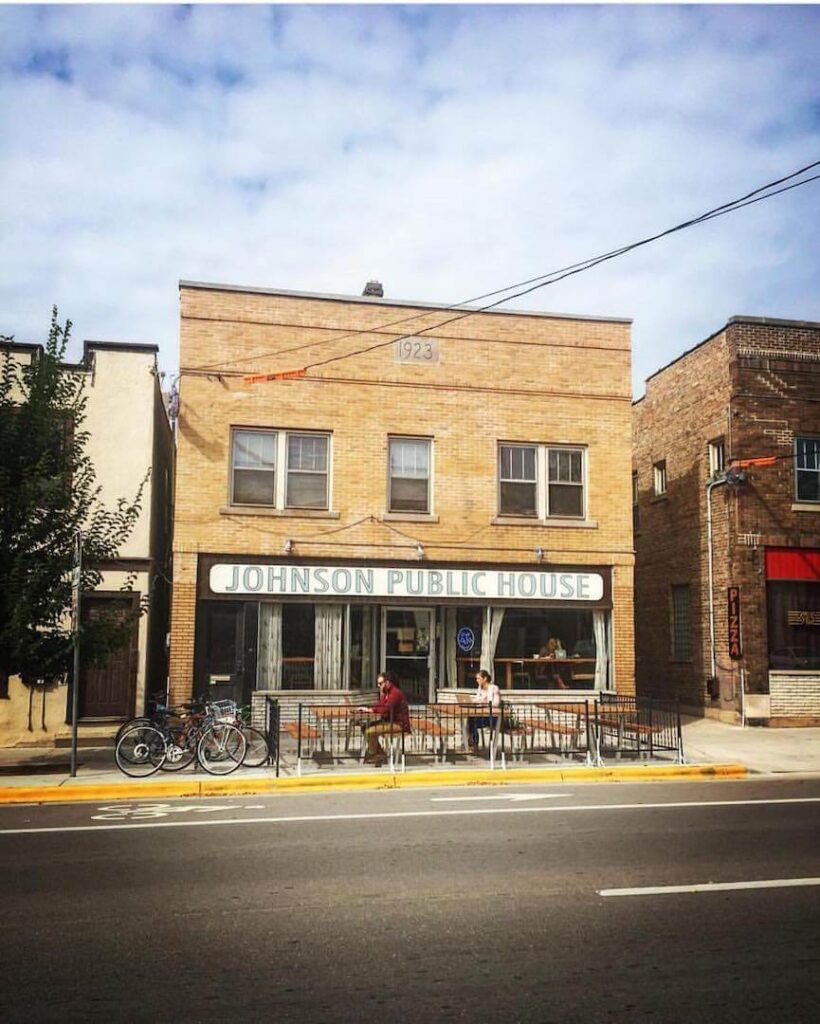 (Source: Johnson Public House)
Our Top Picks for Coffee in Madison
The state capital, Madison, is not to be overlooked when finding excellent coffee. Barriques is a local favorite that combines coffee, wine, and food, creating a unique and inviting experience for patrons. With its warm and welcoming atmosphere, Barriques is an ideal spot for catching up with friends, getting some work done, or simply enjoying a delicious brew.
Another notable coffee shop in Madison is Johnson Public House. This cozy spot features a rotating selection of roasters, ensuring customers can always try new and exciting blends. In addition to its impressive coffee menu, Johnson Public House offers a delectable food menu, making it an excellent choice for a leisurely brunch or lunch.
Kin-Kin Coffee is Johnson Public House's coffee-sourcing business. So if you're looking to enjoy their first-class coffee at home, visit their online store.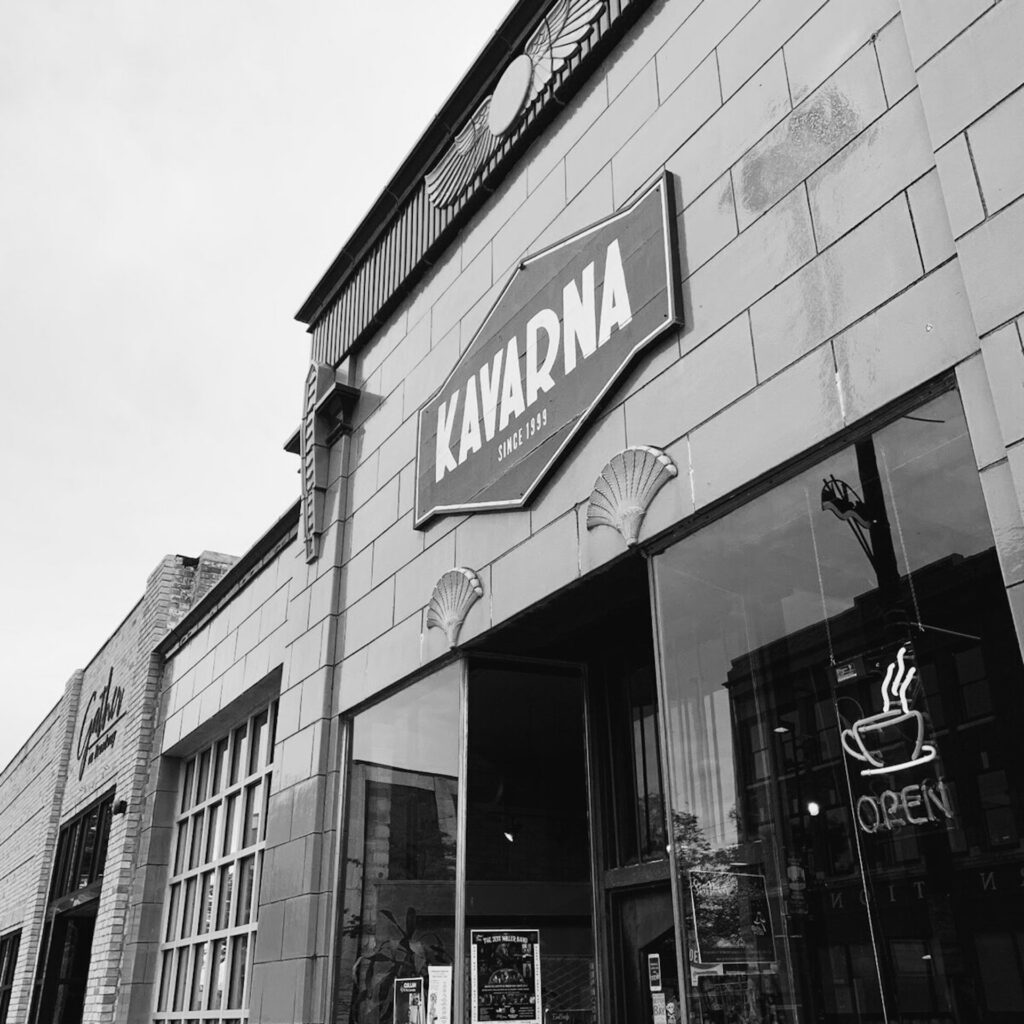 (Source: Kavarna Coffeehouse)
Green Bay Coffee Favorites
Although famous for its football team, Green Bay also has a selection of delightful coffee shops for residents and visitors to enjoy.
Kavarna Coffeehouse is a popular choice, offering high-quality coffee and tea and an extensive menu of vegetarian and vegan food options. 
The coffeehouse is committed to supporting local artists and musicians, frequently hosting live music events and displaying local artwork throughout the space, making it a vibrant and creative hub within the community. As they say on their website, Kavarna is known as "a hangout spot, an office, a meeting room, a study lounge, or an event space," among other things.
The Attic Books and Coffee is another Green Bay treasure. A teashop, espresso bar, and used bookstore all rolled into one — perfection! 
(Source: SHIFT Cyclery & Coffee Bar)
Eau Claire's Best Coffee
Eau Claire, a city known for its thriving arts and music scene, also boasts several great coffee shops. The Goat Coffee House is a hidden gem, offering a cozy and homey environment that makes patrons feel instantly welcome.
Another unique spot in Eau Claire is SHIFT Cyclery & Coffee Bar, which combines a bike shop with a coffee bar. This creative combination encourages a sense of community, as patrons can enjoy coffee while getting their bikes serviced or browsing the latest cycling gear.
SHIFT supports local roasters and offers a diverse menu of beverages, making it a must-visit for both coffee enthusiasts and cycling aficionados.
Uncover the Best of Wisconsin
Wisconsin's thriving coffee scene offers diverse options for coffee enthusiasts to explore from bustling cities to charming small towns. With a strong emphasis on local roasting, sustainable practices, and community involvement, these coffee shops provide delicious cups of coffee and contribute positively to their communities.
As you venture through Wisconsin, be sure to visit these remarkable establishments and immerse yourself in the unique experiences they offer. By supporting local coffee shops, you can help foster the growth and success of these businesses and enjoy Wisconsin's exceptional coffee.
And if you are traveling through Milwaukee, consider joining us on a Milwaukee Sightseeing Tour. Or if you'd like to indulge in the drink that gave MKE its Brew City nickname, join us on a Brewery Tour!
If you have any questions, please contact us.