Summer in Milwaukee, Wisconsin, is a time of vibrant energy, outdoor adventures, and cultural festivities. With its stunning lakefront, lively neighborhoods, and rich heritage, Milwaukee offers a diverse range of activities and attractions for visitors and locals alike.
Whether you're a nature enthusiast, history buff, foodie, or music lover, this city has something to offer. In this blog, we will explore some of the top things to do in Milwaukee during the summer season, ensuring an unforgettable experience in this charming Midwestern gem.
As a team of Milwaukeeans who are passionate about sharing our hometown with visitors and natives on our tours of the city. Covering all the bases of sightseeing, our day trips can take you to iconic landmarks, dive bars, haunted houses, and more!
If you're ready to kick off your vacation with something a little different, just drop us a line. Our knowledgeable tour guides will show you all the sights under the sun and then some. From local recommendations to lesser-known history, what better way to start the summer?
So let's take a look at Milwaukee in the summer months and some of the activities you can look forward to on your visit. For even more things to do, take a look at our blog on The Best Summer Spots in Milwaukee. 
Enjoy the World's Largest Music Festival in Milwaukee, Wisconsin
No visit to Milwaukee in the summer is complete without experiencing the legendary Summerfest — trust us. Held at the Henry Maier Festival Park, this iconic event spans multiple days and features an impressive lineup of more than 800 musicians from various genres. 
Immerse yourself in the buzz as you enjoy live performances on multiple stages, indulge in diverse culinary offerings, and explore interactive exhibits. With Lake Michigan as a stunning backdrop, Summerfest offers an unforgettable summer music festival experience.
Be sure to check the schedule so you can catch your favorite artists and discover some new ones!
There are plenty of festivals to choose from, as the city has one of the busiest social calendars you can imagine. Among Milwaukee's many nicknames, it's also called Festival City. Find out the history of why and which festivals are on offer in our blog on Milwaukee's festival scene.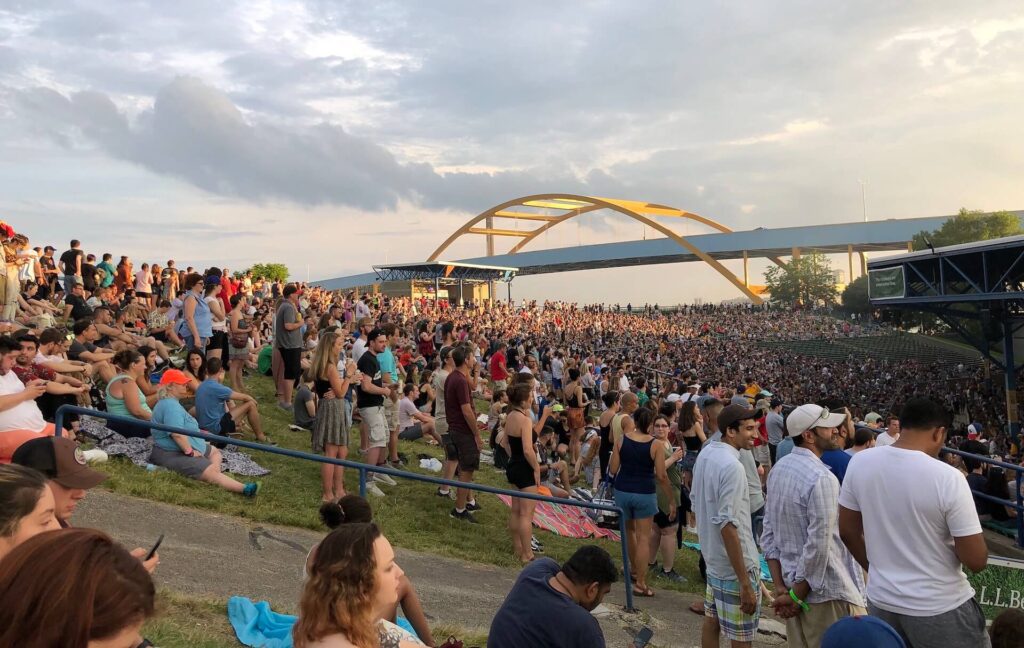 Summerfest, Milwaukee (Source | License)
Embrace Nature at the Milwaukee County Parks, Wisconsin
Milwaukee is home to a remarkable collection of parks that offer a tranquil escape amidst nature's beauty. Explore the vast expanse of the 1,200-acre Grant Park, which boasts wooded trails, a beach, and the stunning Seven Bridges Trail.
Take a leisurely bike ride or enjoy a picnic at the beautiful Lake Park, renowned for its stunning views of Lake Michigan and its iconic North Point Lighthouse. Perfect for a summer's day and a breath of fresh air out of the city.
 For a more adventurous experience, head to the Schlitz Audubon Nature Center, where you can hike through forests, observe wildlife, and appreciate the beauty of the lakefront bluffs.
Grant Park, Milwaukee (Source | License)
Indulge in Culinary Delights and Brewery Tours in Milwaukee, Wisconsin
Milwaukee's vibrant culinary scene is a must-try during your summer visit. Sample the city's famous cheese curds, indulge in traditional bratwurst, and explore the farm-to-table offerings at local restaurants and food markets.
You can find out more about must-try Milwaukee delicacies take a look at our blog on Wisconsin's famous foods. With more than 1,700 restaurants in the city, we've got every cuisine you're craving, as well as our own signature dishes like Milwaukee-style pizza.
Milwaukee's also known as Brew City and, when you visit, you'll see why. Take a brewery tour to discover the city's rich brewing heritage, including iconic breweries such as Miller, Pabst, and Lakefront Brewery. What better way to cool off than with a cold one in the sun?
If you prefer sampling more local flavors, dive into the world of craft beer and learn about the brewing process on our Milwaukee Brewery Tour. Hop on one of our eco-friendly cruisers and we'll take you on a tour of the best independents in the Brewery District. 
Milwaukee Brewing Company Beer (Source | License)
Discover the Historic Third Ward in Milwaukee, Wisconsin
Head to the Historic Third Ward, one of Milwaukee's trendiest neighborhoods, to experience a mix of history, culture, and entertainment. Explore the neighborhood's charming cobblestone streets lined with boutique shops, art galleries, and unique dining establishments.
Dive into Milwaukee's industrial past by visiting the Milwaukee Public Market, where you can sample local delicacies and shop for fresh produce and artisanal goods. Stroll along the scenic RiverWalk, offering picturesque views of the Milwaukee River and its vibrant surroundings.
The Third Ward also hosts a variety of summer events, including art festivals, live music performances, and gallery nights, ensuring there's always something happening in this lively district.
Historic Third Ward River Walk Milwaukee (Source | License)
Enjoy the Summer Temperatures in Milwaukee, Wisconsin
During the summer months, Milwaukee enjoys long daylight hours, providing ample opportunities to explore the city's outdoor attractions, parks, and waterfront areas.
Summer in Milwaukee means warm and pleasant weather, with temperatures ranging from mild to occasionally hot. The average high temperatures in June hover around 75°F, while July heats up to around 80°F. August remains warm with average highs around 78°F.
The average low temperatures in June and August range from 57°F to 61°F, offering comfortable evenings for outdoor activities.
There is a chance of summer showers, however. July tends to be one of the wettest months, but there are plenty of indoor activities to keep you entertained until it clears up. If you get caught in a shower, dive into Milwaukee Art Museum — an architectural gem studded with masterpieces.
It's important to note that these are average temperatures, so expect a little variation. Additionally, Milwaukee's proximity to Lake Michigan can influence the weather, including occasional cool breezes and lake cloud cover. Pack your sunscreen and an umbrella!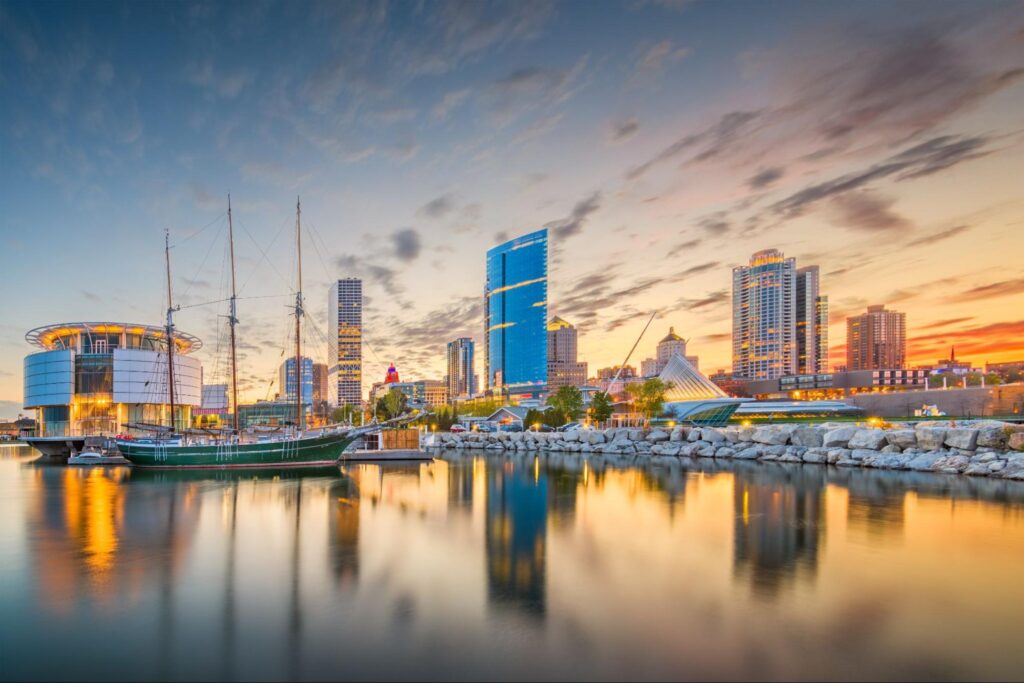 While this barely scratches the surface of awesome summer activities to enjoy in Milwaukee, we hope we've given you some destination inspiration ahead of your trip. Whether you're ready to hike the parks, indulge in your foodie side, or sample a slice of culture, just get in touch for our local recommendations.
There is plenty more to explore on our tours of Milwaukee, so head on over to our site to explore wine tasting, escape room tours, and tour of the city's famous sculptures — among many more unforgettable experiences. Make this summer one for the books, with City Tours MKE.