Milwaukee has long been known as 'Brew City' and is even nicknamed the beer capital of the Midwest and, according to some, the world, but why? From the history of this major beer-producing state to the best craft breweries operating today, we'll give you the lowdown on our hometown.
City Tours MKE lives and breathes all things Milwaukee. From local breweries and dive bars to escape rooms and pub crawls, we like to show visitors the best of the city on our Milwaukee Tours that showcase the city's vibrant culture and rich history.
So even if you're not a beer fan, we've got plenty of activities to make your vacation unique. If you're looking to explore Milwaukee with a group, a partner, or your family, get in touch! We've got plenty of fun tours and Milwaukee-based activities to choose from.
But for now, pop open a cold one and let's take a look at the history of Brew City and how Milwaukee got its nickname.
How Did Milwaukee Become Brew City?
Milwaukee's brewing history dates back to the mid-19th century when Schlitz Brewing Company opened. As the first large-scale brewing company in the state, it was soon superseded by Miller Brewing Company, which has since produced some of the most popular beers in the US.
German-American brewer Jacob Best founded the Empire Brewery in 1844 ⁠— before Wisconsin was a state and Milwaukee was incorporated as a city. After a few name changes, Empire became Pabst Brewing Company, which we now know as one of the most popular brewers in the world.
Miller Brewing Company opened in 1855 and was the brainchild of Frederick Miller, a German immigrant who certainly knew a thing or two about good hops. His vision became a cornerstone of Milwaukee's brewery scene and became a cornerstone of nearly two centuries of brewing.
The nickname 'Brew City' became popular in the 1980s as a means of promoting tourism and the city's hoppy heritage. Now home to Molson Coors Beverage Company, the city's largest brewery produces 10 million barrels of beer annually!
Which Breweries Are Located in Milwaukee?
There are currently approximately 40 breweries located in Milwaukee, a number that has grown rapidly in recent years. With independent microbreweries arriving on the local scene, locals and visitors alike can explore new flavors alongside some of the classic companies.
While we won't provide an exhaustive list of every brewery, we'll give you some of the highlights! Some of the major players in the brewing industry are located in Milwaukee, including Lakefront Brewery, Sprecher Brewery, and MillerCoors. Known worldwide for their variety of beers, these companies ship all across the country and beyond.
We're certain you've tried Coors Light, Blue Moon, Miller Lite, or Pabst Blue Ribbon, all of which have origins in Milwaukee! There's nothing like sipping a beer in the place it was made, don't ask us why, but it does taste better.
If you want a taste of the local brewery scene beyond the heavyweights, join us on our Milwaukee Brewery Tour. With a small group of fellow beer lovers, you'll experience four of the best independent microbreweries in Milwaukee and sample eight unique beers!
If you're looking for souvenirs or something a little unusual to wet your whistle, look no further. From cold brew Snake Oil Nitro Stout to the sour Harry Cherry, there's plenty to write home about in these local, friendly brewing experts.
Take the Plunge into Milwaukee's Dive Bars
If you want to get up close and personal with the locals, we recommend heading out to as many of the local dive bars as you can fit into your vacation! Brew City has a well-known dive bar scene full of excellent brews and colorful characters, and, in our opinion, visiting them is one of the best ways to get to know a city.
For an in-depth guide to the city's dive bar and cocktail bar scene, check out our blog: A Local's Guide to Milwaukee Dive Bars and Cocktail Lounges.
Where Can I Try the Best Brewskis in Town?
While recommending the best beers can be a subjective process, our favorite bars and brews cater to a range of taste buds. Whether you prefer a sour beer or an ale, we're certain you'll find something to enjoy across Milwaukee's vast array of bars and breweries.
Our favorite bars are located around the East Side, Brady Street, the Third and Fifth Wards, and the Harbor District. Given our Irish heritage, we're very partial to an Irish bar, as you'll see if you join us on our St. Patrick's Day Pub Crawl.
For some great scenery, check out the Lakefront Brewery which overlooks the Milwaukee River. Or, if you want an even bigger body of water, stop off at Enlightened Brewery and grab some beers and a sandwich to enjoy on the shores of Milwaukee Bay.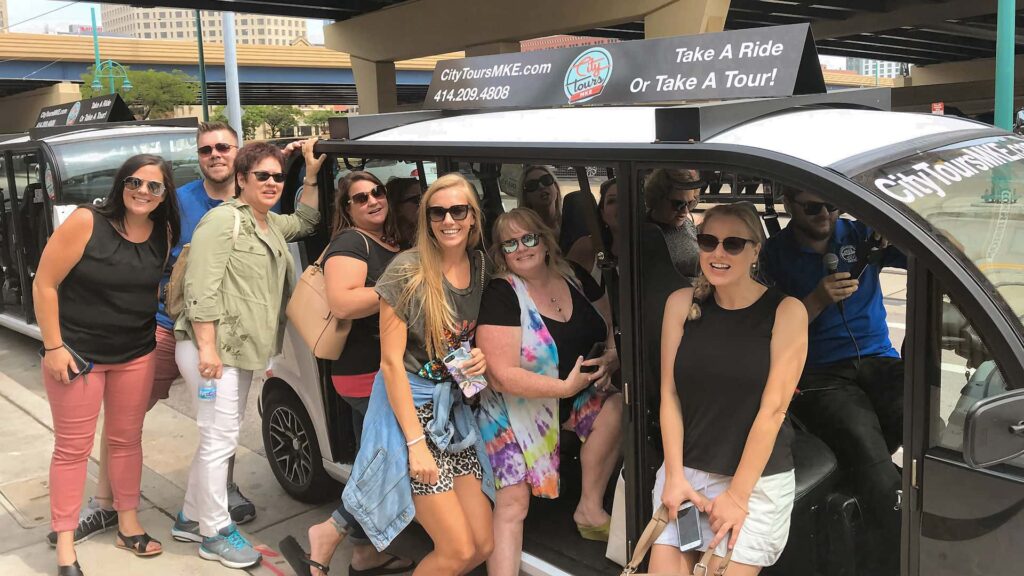 That brings our virtual tour of Brew City to a close. If there was a pub quiz, do you think you'd get full points on the Milwaukee section? If you're ready to embark on the real thing, take a look at our Milwaukee Dive Bar Tour or mix it up with our Escape Room Pub Crawl Tour!
While we consider ourselves beer aficionados, City Tours MKE offers an array of Milwaukee-based experiences to share the best of our hometown. Get in touch with us to find out more about our under-21 tours for the whole family. Until then, stay hydrated!