You may not know that Milwaukee is home to a thriving craft beer scene! Even before the city was established, Milwaukee's brewing industry was going strong. Since then, dozens of microbreweries have sprung up giving Milwaukee its reputation as the craft beer capital of the Midwest. 
You may have tried a glass of Schlitz or Pabst Blue Ribbon, but the city has so much more to offer than major-named brands! That's why we've rounded up some of our favorite microbreweries to quench your thirst with something unusual.
At City Tours MKE, we love nothing more than sharing a pint with friends old and new. Our local tour guides are always ready to share the best of Milwaukee's microbreweries where you can wet your whistle. Whether you like your beer with mini-golf or ghosts, we've got you covered!
If you're planning a trip to Milwaukee and want to discover the best of our local craft beer scene, get in touch! We're here to help you experience Wisconsin the right way, preferably with a beer in hand.
Visit Indeed Brewing Company's Taproom in Milwaukee
Have you got a hankering for flavored ale? You're in luck! Indeed Brewery Company makes seasonal beers all year round, including a Mexican honey lager and a delicious pumpkin-spiced pistachio cream ale. 
As well as delicious drinks, Indeed Brewery Company has a hopping good events calendar. If you want to play cribbage with your friends over a drink, this is the place.
Speaking of events, this brewery and more are part of our Mini Golf Brewery Tour. Why not shake up your pub crawl with a hole-in-one? Drinks are on the person with the highest handicap! 
If you're visiting Milwaukee and want to head over to our neighbor, Indeed Brewery also has a taproom in Minneapolis.
Try Something Seasonal at Third Space Brewing, Milwaukee
Founded by Milwaukee natives, Third Space Brewing has gone from strength to strength since its opening in 2016. Beginning as a labor of love, the brewery has continually expanded its distribution and is now found across the state of Wisconsin. 
Owners Kevin Wright and Andy Gehl have created a brewery and tap room that offers a diverse range of year-round beers and plenty of seasonal specials, such as the Ice Bear Baltic Porter for winter, or the crisp, refreshing Maestro Italian Pilsner for summer.
Give their taproom a visit for great conversation and exciting brews.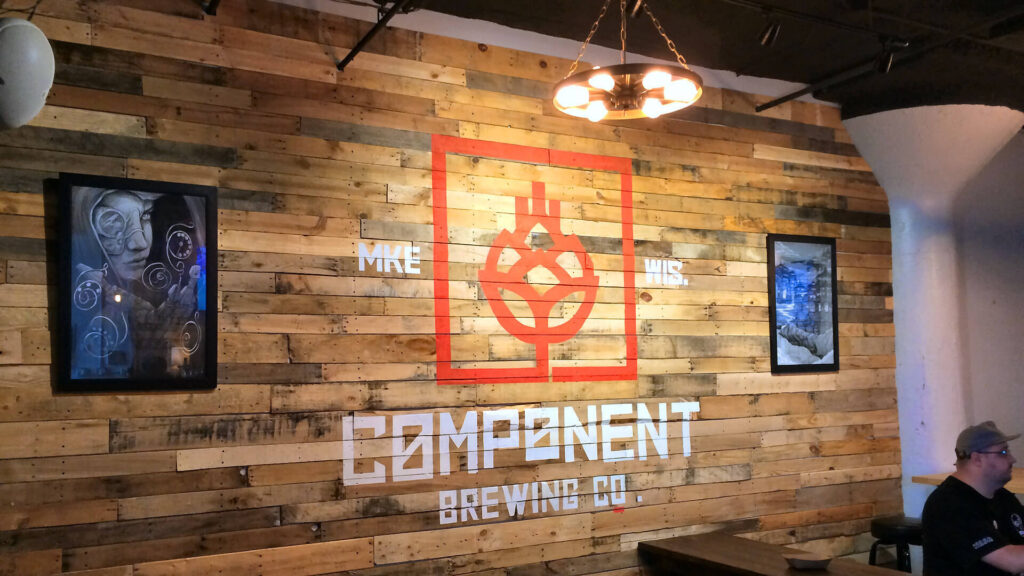 Taste the Essentials at Component Brewing Company, Milwaukee
Component Brewery is another one of our local faves. Run by three cousins bonded by blood and their love for beer, Component is so named for only using the most essential ingredients in their beer.
Their offerings come on draft or in sleekly designed cans and you can taste everything from stout and IPA to sours. This straight-up craft beer company is, in their words, "Artfully and scientifically made" craft beer, meaning you'll sip nothing but the real thing, baby.
Located near Bay View, in the brewery hub, sample all 10 tap lines of Component Brewery's delicious mixes.
Outstanding Beer, Upstanding Gentlemen – Dead Bird Brewing Co., Milwaukee
The motto of Dead Bird Brewing Co. is, "Outstanding Beer by Upstanding Gentleman" and they more than deliver. 
Offering delicious vegan food, a vibrant beer list, and a convivial atmosphere, the Dead Bird Brewing Co. is a top choice for those organizing a larger gathering.
If you like sweet beers, order a pint of Tepaché, a classic ferment of whole pineapple and Mexican cane sugar.
See the Light at Enlightened Brewing Company, Milwaukee
Finding enlightenment with beer may not seem like a likely combination, but the team the Enlightened Brewing Company has seen the light with their delicious drinks.
Their Sustained Thought Coffee Stout is a creamy blend of cold-brew coffee and British hops that'll perk you up any time of day. All the beers are made on-site and can be drunk on draft or enjoyed at home in a takeaway can.
Enjoy a beer in their warehouse space, decorated with dark wood benches and tables and leafy green plants. We can't guarantee enlightenment, but you'll have a tasty pint for sure!
If you lean towards the darker side of life, check out our Haunted History Pub Crawl Tour to explore the city's haunted bars ⁠— if you dare!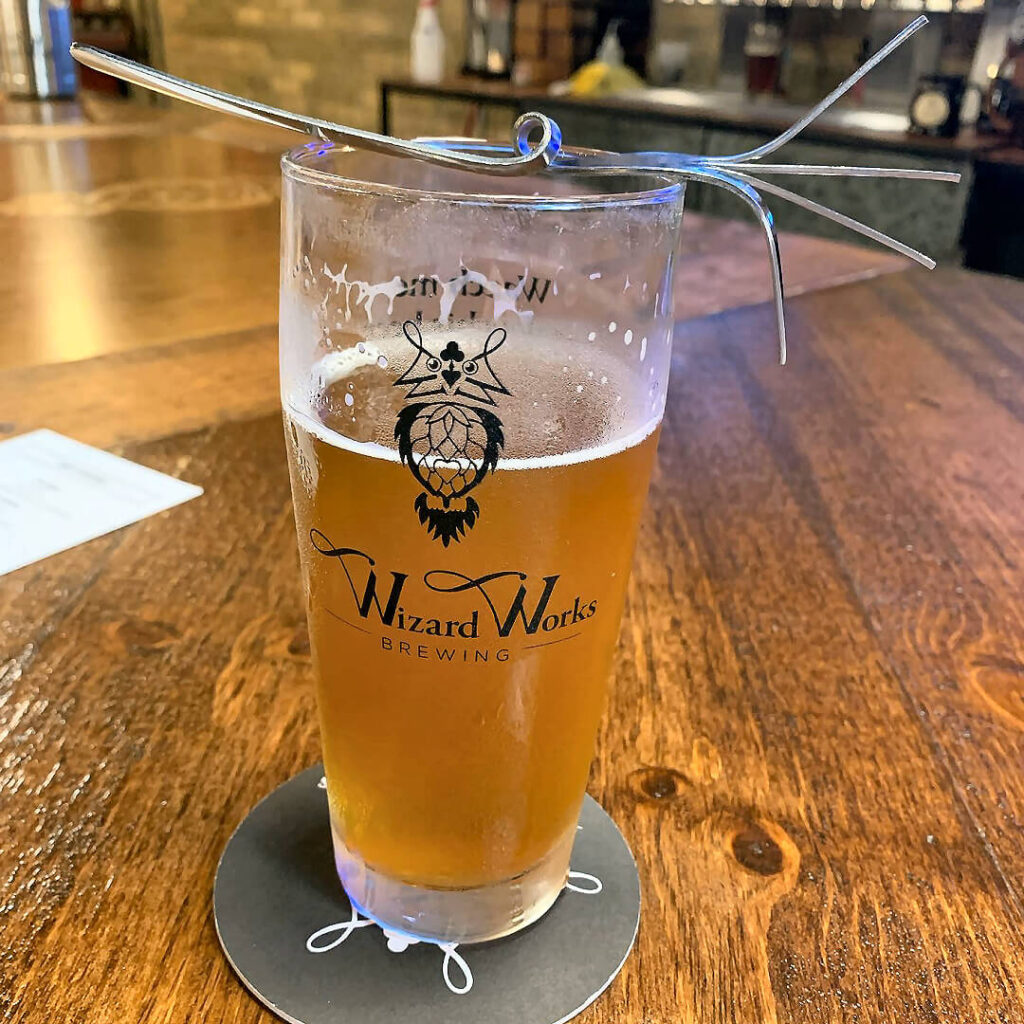 Drink Magical Brews at Wizard Works Brewing
Wizard Works Brewing was established by Jenny Higgins and Chris Ivanovich, a magician of 40 years. Using those powers he developed in his former line of work, Chris today puts a healthy dose of magic into his brewing. 
Located in Milwaukee's historic Third Ward neighborhood, Wizard Works offers a welcoming environment and a delectable selection of hand-crafted beers.
Family-friendly, dog friendly, and happy for you to bring your own food, the Wizard Works taphouse provides an unbeatable cozy atmosphere – this is a great spot to sit down with old friends.
If you fancy a refreshingly traditional beer that harkens back to the Milwaukee beer production of old, order a pint of either their Hellstrom Oktoberfest Märzen or BD Levitation Pilsner (Czech style). For something a little different, don't miss their Smoke And Mirrors, a hazy New England IPA bursting with fruit flavors.
Beyond the Breweries – Dive Bars in Milwaukee
Not only do we want to introduce you to some of our favorite ales and lagers, but we want to share the best Milwaukee watering holes. Our city has a whole host of dive bars beyond the beaten path of tourist traps and sports bars.
Our Milwaukee Dive Bars Tour offers great drinking but a taste of local Milwaukee life. Join us to visit some of the hidden gems that you may have otherwise overlooked. Rub shoulders with pub regulars in establishments full of vintage charm. Cheers!
If your ideal dive bar is a gritty, no-frills affair, or a quaint, old-school joint, our Milwaukee beer tour features local institutions and guarantees a new favorite local for everyone.
Have you worked up a thirst reading our guide to Milwaukee's craft beer scene? Or are there more breweries you'd like to explore in our hometown? If you want to try the best beers in the city, check out our Milwaukee Brewery Tour to learn about the industry through your tastebuds!
As always, the team at City Tours MKE is here to help with any travel questions you may have. Get in touch with our local experts to start planning your trip to the craft beer capital of the Midwest. See you at the bar!