If you're planning a trip to Milwaukee and want to see the city beyond the beaten path, then this is the blog for you. We've pulled together a list of our favorite neighborhoods to help you get to know another side of this Wisconsin hotspot.
Our top six underrated neighborhoods include eat and drink spots we love, historic sights to enjoy, and local recommendations for stores and outdoor activities.
City Tours MKE has been showing locals and travelers from further afield around Milwaukee since 2013. Our Milwaukee sightseeing tours cover a range of city sights and history, whether you're a beer aficionado, a culture vulture, or a foodie.
If you're looking for something unusual to try on your vacation to Milwaukee, get in touch! Our local team is here to help make your visit unforgettable. But, for now, let's take a look at Milwaukee's top six underrated neighborhoods for you to explore.
Take a Trip to Brewers Hill, Milwaukee
Brewers Hill is located on the Milwaukee River bluff, giving this neighborhood a scenic slant in addition to its history. This area was once home to brewery and tannery laborers, as well as the more wealthy citizens. This diversity in the population remains today, which extends into the area's various restaurants and cafes, full of individual flavors.
We recommend Uncle Wolfie's Breakfast Tavern to fill up on an all-day breakfast, then head along the area's Beerline Trail. This public park was built along the historic railroad tracks that transported beer throughout the state. Milwaukee's beer legacy has impacted so much of the area!
If you're looking to wet your whistle and get to know the city's expansive history through its beer, we recommend our Milwaukee Brewery Tour. Not only do we take you to independent breweries that form the backbone of the city's economy, but offer you the chance to sample unique flavors you can only find here.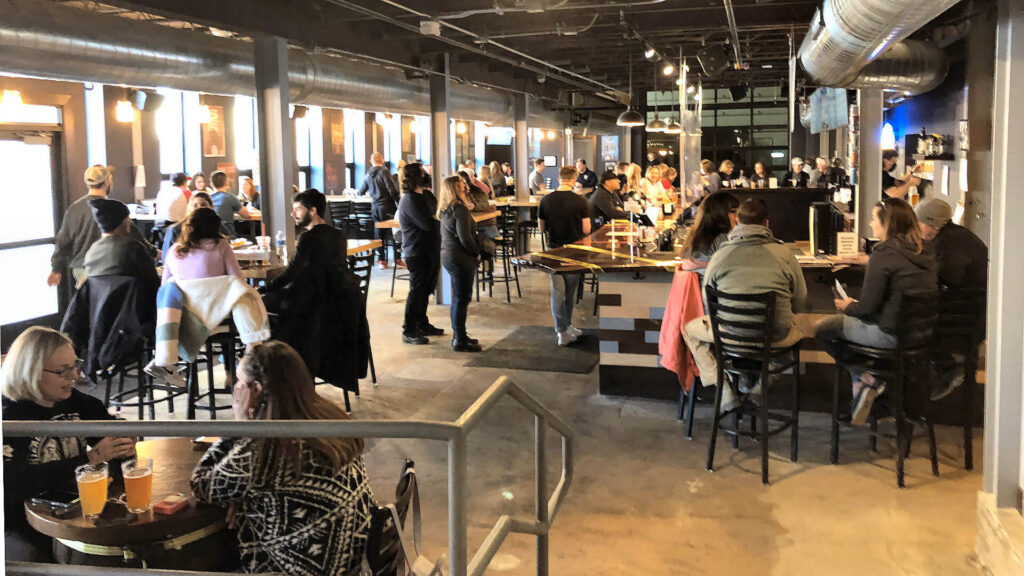 Check Out Riverwest's Communal Spirit in Milwaukee
As the name of this neighborhood would suggest, Riverwest is located west of the Milwaukee River and is a hub of a vibrant arts and cultural community. Full of greenery and DIY spaces, this hip area is great to stroll around. Check out Kilbourn Reservoir Park for great views and communal gardens.
In the summer months, keep your eyes peeled for the Locust Walk, this community street festival has up to 10 stages of live music, a beer run, and local vendors on site. You can also cheer on riders in the Riverwest24. This 24-hour bike ride is a big street party where spectators can cheer on those participating.
Get to Know the City in Milwaukee's Historic Third Ward
This riverfront neighborhood has been massively revitalized, transforming the old warehouses into a modern hub of places to eat, drink, and shop for locals.
Milwaukee is also known for its festival scene, so if your vacation coincides with Summerfest 2023, you'll hear top acts across three different weekends. This event is billed as "the world's largest music festival", find out why in this area. There are also local artisans and food trucks you can enjoy exploring to the epic soundtrack.
Another institution is the Public Market, which is the place to be if you want to experience great flavors, cooking classes, and wander amongst fresh local produce. There's also a jam-packed events calendar. In the wider area, there's a high concentration of art galleries for a splash of culture.
Historic Third Ward also features on our Hop-On Hop-Off Milwaukee Tours. Meet us at the Public Market in front of St Pauls Fish Market and we'll take you to your next desired destination.
Relax and Enjoy the Views at Bay View, Milwaukee
If you want a little relaxation from the bustling city neighborhoods, check out Bay View. Another area with great green spaces, Bay View Park offers excellent panoramic views of Milwaukee and Lake Michigan from South Lake Drive.
For the outdoor lovers amongst you, there are also a bunch of bike trails to enjoy here. If you're looking for the main street, head to Kinnickinnic Avenue – nicknamed KK. You'll find plenty of cook stores including Blume, an affordable vintage store, and Lion's Tooth, a bookstore/cafe with adult and children's books.
Music lovers can head down to the independent Acme Records & Music Emporium for their vinyl needs. Live music finds can look out for Bay View Chill on the Hill, a concert series in Humboldt Park that takes place from July through August.
Enjoy Art and Architecture in Juneau Town, Milwaukee
This area encompasses a lot of the East Side of Downtown Milwaukee meaning Juneau has a very urban feel. Enjoy the cityscape dominated by skyscrapers, some of which have steps leading down to the waterfront.
When visiting, you can also visit Juneau Town's gem, the Milwaukee Art Museum. Here you can see classic works from Wisconsin-born artist Georgia O'Keeffe, a permanent collection of 32,000 pieces, and rolling exhibitions. After visiting, unwind overlooking the lake in Juneau Park.
If you'd like to take in some of the sights at your leisure, consider our Hop-On Hop-Off Milwaukee Tours. One of the stops is outside the Milwaukee Art Museum, so we can drop you here or take you to your next awesome location.
Explore Mexicana and the LGBTQ+ Scene in Walker's Point, Milwaukee
The final area on our list is Walker's Point. This area is being revitalized as we speak, with plenty of existing and planned microbreweries and talk of making the neighborhood a tech hub. Try Mob Craft beer in the brewery's Milwaukee Taproom for crowdsourced beers and unusual flavors from their Wild & Sour Program.
Walker's Point is a major Hispanic area, with local businesses and delicious restaurants. Enjoy fresh mole and delicious fish tacos or visit Botanas, one of the best Mexican eateries. For a relaxed atmosphere, try Conejito's Place for the best aesthetic and great chicken mole.
Walker's Point is also a historically LGBT+ neighborhood with vibrant nightclubs and places to meet the community. For a bar with a slice of history, visit This Is It! Opened in 1968, it's one of the oldest gay bars in the States and was recently bought by drag queen Trixie Mattel.
Which of these underrated neighborhoods in Milwaukee will you add to your itinerary? Perhaps we've missed out on one of your favorite spots? Let us know! We're always open to adding more spots to our maps.
If you'd like to compile a tour of our own, check out our Milwaukee Custom Tours & Rentals. Perhaps you've got a special occasion coming up or a team event you'd like us to plan for you. We'll take care of the details so all you have to do is enjoy the ride and the sights.
However you plan on exploring Milwaukee, we hope this virtual tour has given you some food (and beer!) for thought. Until next time, happy travels.