As the largest city in Wisconsin, Milwaukee is bursting with hidden gems and iconic attractions ready to be explored.
Milwaukee's green spaces and parks are high up on the must-see list, perfect for couples wanting a leisurely stroll, entertaining your children, walking your dog, or picking up the pace with a spot of exercise. The bike trails are scenic and plentiful in MKE!
City Tours MKE has been guiding locals and travelers around this great city since 2013. Make your visit unforgettable with our Milwaukee sightseeing tours, which are crafted by experts who take the pressure off planning your trip, allowing you to relax and enjoy the best Milwaukee has to offer.
Whether you're here for the craft beers and dining experiences, to soak up the local history, or the plethora of outdoor activities in the beautiful green spaces of Wisconsin, our local team is ready to help you explore. All in the comfort of an eco-friendly, emission-free cruiser.
Let's dive into this selection of inviting green spaces and parks to experience in MKE.
RiverWalk
A very popular destination for both locals and tourists, Milwaukee RiverWalk is a perfect way to enjoy the city's beauty and charm by foot or bike.
Spanning three miles, the pedestrian pathway goes through downtown MKE offering picturesque views of the river, an occasional quaint bridge, and the city's landscaped parks.
There are several waterfront restaurants and beer gardens where you can enjoy a delicious meal and drink, while along the pathway you will see snapshots of Milwaukee's history and the commitment to bring new life to the city's downtown area.
For those who favor the arts, RiverWalk has several art installations. You can be sure of an interactive and visually appealing experience each time you visit! For more information on this location, check out our comprehensive guide.
Northwestern Mutual Community Park
This park is perfect for getting that wild child energy out while on vacation. Little ones (and big ones) can enjoy the rainbow colors of this community playspace, located at Henry Maier Festival Park, Summerfest Grounds.
Created for children aged 6 months to 12 years of age, this park is inclusive and accessible for all children — even those who may experience challenges. There are wheelchair-access ramps and three wheelchair-accessible quiet rooms for children who may be overstimulated by the environment.
Shaded seating, family restrooms, and nursing mother stations are here for use, as well as the colorful play equipment designated for individual age groups. 
Juneau Park
Described by Juneau Park Friends as a 'historical green space that transitions the urban skyline of Milwaukee to the expansive beaches of Lake Michigan'. This park is an ideal location for peace and solitude, or as a quiet meeting point with friends and family while soaking up the beautiful vistas. 
With 14 acres of green space, there are so many ways to enjoy Juneau. The Oak Leaf Trail is great for cycling, walking, running, rollerblading, and even birding! With 135 miles to explore, there's plenty to see along the way. In the summer months, Juneau Park also has a beer garden sponsored by Sprecher Beer.
Many also flock to Juneau Park for an excellent vantage point for fireworks, especially for Fourth of July celebrations.
Riverwest
Located west of the Milwaukee River, this very green neighborhood is a hub for arts and culture enthusiasts. Great for stretching the legs with a stroll and also fantastic for tourists wanting to get a slice of what MKE is all about.
Kilbourn Reservoir Park is a green urban retreat famous for its impressive views and communal gardens. This 35-acre park is well worth a visit on your trip to Milwaukee.
Every summer a community street festival named Locust Street Festival takes place, with several stages for live music, a very popular beer run, and many local vendors offering their wares. The 24-hour bike ride, Riverwest24, is also a lively event to experience as spectators can cheer on participants!
Bay View Park
If you're looking for a quieter setting away from the bustling city center, you should head to Bay View Park. From South Lake Drive, you can expect panoramic views of Milwaukee and Lake Michigan.
For the outdoorsy types, there is an abundance of great bike trails also suitable for hiking and other activities. Milwaukee is very bicycle-friendly with over 160 miles of bike lanes, several of which are located in Bay View Park.
Dog lovers can also take full advantage of our city's green spaces. Check out this list of dog parks for your furry friends to frolic in.
Humboldt Park
Located in the heart of Bay View, this park is a hub for many community events across the year and home to The Vine Humboldt. This beer garden serves craft beer with brews from Sprecher Brewery, Lakefront Brewery, and Terrapin Brewery, as well as guest breweries on rotation.
For an in-depth look at the many breweries in the city, read our beer lover's guide to Milwaukee. You can also make this your focus when booking a tour with City Tours MKE with the popular Milwaukee brewery tour!
Drinking in The Vine, along with eating the Peruvian empanadas, supports future park projects. So your custom is paying it forward! Even if craft beer is not your thing, the park – named after German explorer Alexander von Humboldt – celebrates a love of nature and adventure.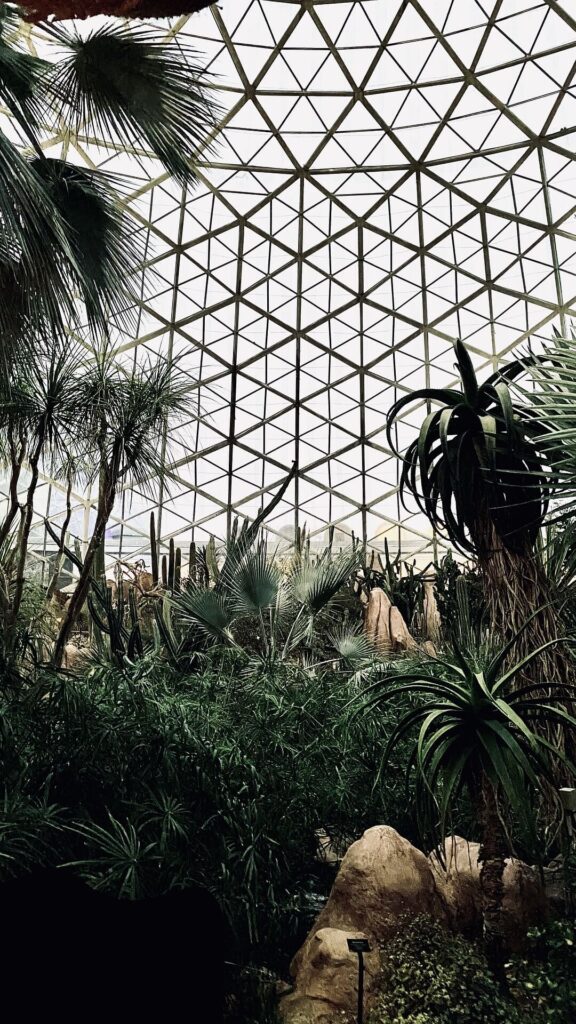 Mitchell Park Domes
Another recreational spot worth a mention is Mitchell Park Horticultural Conservatory – especially for those with an interest in plants.
It is a living plant museum with a collection of over 1,800 plant species from across the world. Also known as the Domes, the site includes six propagation greenhouses and a special greenhouse for bespoke events.
You can visit all year round, experiencing the desert domes, the floral domes, and all the fascinating plant life housed inside.
For local recommendations and a chance to try something unusual on your vacation – such as the underrated neighborhoods in Milwaukee, don't hesitate to get in touch with the City Tours MKE team!