One of its most treasured attractions is the Milwaukee RiverWalk, a charming pedestrian walkway that winds its way through the heart of the city. Its vibrant culture and picturesque landscapes attract people year-round, so, we've put together a guide for your visit!
In this comprehensive guide, we will explore the highlights, history, dining, and activities that await you along Milwaukee's RiverWalk. Winding through the heart of Milwaukee, this route spans over 20 blocks along the Milwaukee River.
As locals, the team at City Tours MKE loves exploring this charming area and beyond, as you'll see on our Milwaukee tours. If you're planning a group excursion in our city, get in touch! We have plenty of ways to entertain your party as you get to know Milwaukee's hotspots.
If you'd like even more recommendations from a Milwaukeean perspective, take a look at our blog: Best Things to Do in Milwaukee: A Local's Complete Guide. There are plenty of things to do for adventurers of all ages, including along the RiverWalk. So let's take a virtual walk.
Milwaukee's RiverWalk (Source | License)
A History of the Milwaukee RiverWalk
The Milwaukee RiverWalk, established in 1993, is a symbol of the city's commitment to revitalizing the downtown area. It stretches roughly 3 miles along the Milwaukee River, or 20 blocks from north to south, offering stunning views of the city skyline, historic buildings, and natural beauty.
The RiverWalk has become a gathering place for locals and visitors alike. Since the 90s, the years of development have been rewarded with several national awards thanks to its outdoor gallery and changing art exhibitions, restaurant scene, and distinct way to discover Milwaukee.
When you venture along this picturesque walkway, you can explore several riverfront neighborhoods, including Brewers Hill and the historic Third Ward and more. Whether you do it all in one day or over a couple, you'll get a snapshot of Milwaukee's history in different areas.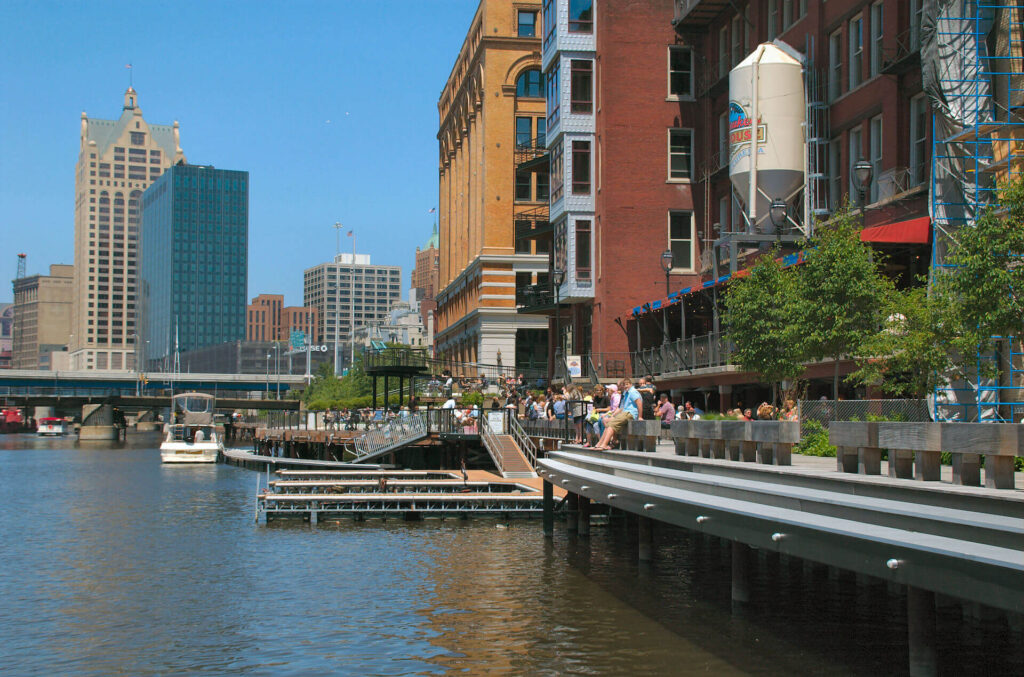 Where to Start on the Milwaukee RiverWalk
The RiverWalk spans approximately 20 blocks on both sides of the Milwaukee River, seamlessly connecting three vibrant downtown neighborhoods. This pedestrian promenade runs through the heart of the city, offering captivating views of gleaming skyscrapers, hotels, and restaurants.
You can choose your own adventure on the RiverWalk, depending on where you're staying and which area appeals the most. Each of the three distinct neighborhoods is united by the outdoor art gallery, RiverSculpture! an outdoor gallery featuring local and regional artists.
The northernmost section of the RiverWalk is known as the Beerline "B." This part of the RiverWalk proudly showcases Milwaukee's brewing heritage, with reminders of the city's beer legacy permeating the area. This section starts at the intersection of N Commerce St and N Humboldt Ave.
The Beerline B Apartments, RiverWalk (Source | License)
The Downtown, central section, starts near Juneau Avenue, where the previous section ends. Here, past and present meet in the city's theater district and along Old World Third Street, a historic landmark zone. See cobblestone streets and a play or two on your visit.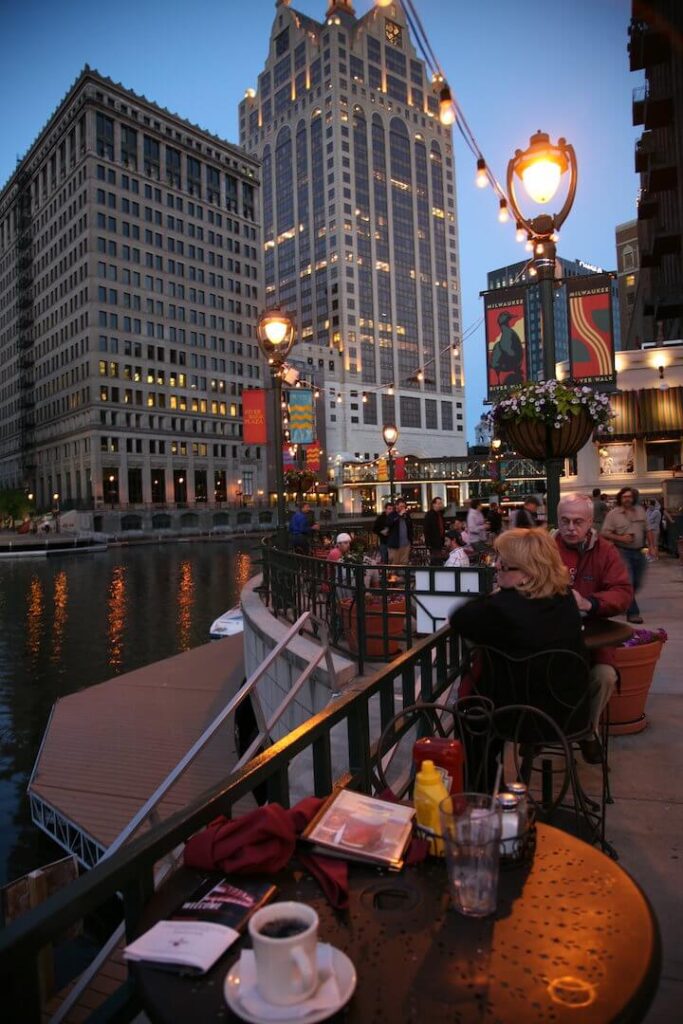 The view from Downtown, RiverWalk (Source | License)
To the south, you can begin from the Historic Third Ward's RiverWalk, a neighborhood often compared to a miniature "SoHo" due to its charming 19th-century architecture, eclectic boutique shops, art galleries, and thriving nightlife. This section spans from the I-794 freeway to the Harbor entrance.
Each of these sections seamlessly transitions into the next, creating a continuous, enjoyable RiverWalk experience.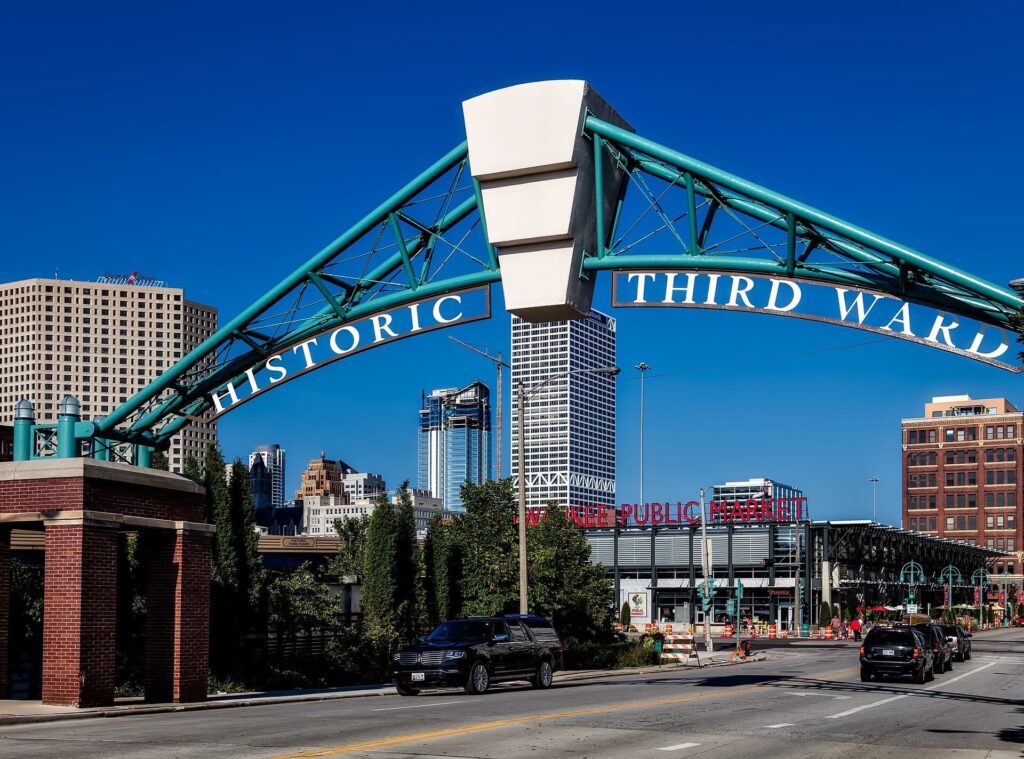 Dining and Drinking on the Milwaukee RiverWalk
The Riverwalk is a culinary haven, offering a diverse range of dining options to satisfy every palate. From casual waterfront cafes to upscale dining establishments, you'll find a variety of cuisines and atmospheres.
Enjoy fresh seafood and farm-to-table fare, or indulge in classic Wisconsin dishes like cheese curds and bratwurst. Some popular dining spots along the Riverwalk include Café Benelux, Water Street Brewery, and The Wicked Hop.
We've rounded up some recommendations by area, so you can enjoy a taste of what's to come along RiverWalk's three neighborhoods.
Drinking and Dining in Beerline "B" RiverWalk
The Beerline "B" RiverWalk section of Milwaukee's RiverWalk is a haven for beer enthusiasts and showcases the city's brewing heritage. As you stroll along this northernmost portion, you'll encounter a variety of establishments offering craft beers, gastropub fare, and lively atmospheres.
Kickstart your beer-centric adventure at Lakefront Brewery, a local favorite known for its guided tours and diverse beer selection. Enjoy a pint on their outdoor patio while taking in views of the river.
Just a short walk away, you'll find Eagle Park Brewing Company, a small-batch brewery specializing in unique and flavorful brews. Grab a seat in their taproom and sample inventive beer creations or enjoy the sun at the pop-up beer garden located in Schlitz Park The Tap Yard. The Tap Yard has rotating food trucks and special events all summer long.
If you'd like to explore more about craft beer and sample some local flavors along the way, take a look at our Milwaukee Brewery Tour.
Drinking and Dining in The Historic Third Ward
The Historic Third Ward section of the RiverWalk is a vibrant neighborhood that seamlessly merges history, art, and culinary delights. This district is home to an array of dining options that cater to diverse tastes.
Start your culinary journey at the Milwaukee Public Market, a bustling marketplace where you can explore various food vendors offering everything from artisanal cheeses and fresh seafood to international cuisines.
Visit Milwaukee's first Tequileria at Blue Bat Kitchen & Tequileria. With more than 160 tequilas available, the team at Blue Bat knows their agave. This relaxed and fun atmosphere is a great place to unwind and taste tacos that fuse global flavors.
If you're craving Italian cuisine, head to Tre Rivali, a modern Mediterranean-inspired restaurant serving delicious pasta dishes and flavorful small plates. Journeyman Hotel, located in the same building, is perfect for enjoying craft cocktails and panoramic views of the skyline and the Milwaukee River.
Milwaukee Public Market (Source | License)
Drinking and Dining in Downtown, RiverWalk
The Downtown section of the RiverWalk boasts an eclectic array of dining options, from casual eateries to upscale restaurants. Start your culinary exploration at Water Street, known for its lively atmosphere and vibrant dining scene.
Here, you can find a range of establishments, including Mexican taquerias, sushi bars, and cozy pubs. For a taste of New American cuisine, visit Mason Street Grill, just five blocks from Riverwalk, where you can savor delectable steaks, seafood, and creative cocktails in an elegant setting.
If you're in the mood for some pizza, make your way to Calderone Club, a local favorite offering authentic Italian pies and hearty pasta dishes.
To experience a unique dining experience with stunning views, head to Il Cervo. This rooftop bar and restaurant is located atop the Trade Hotel and specializes in delicious Italian dishes and signature cocktails.
If you want to learn more about our state's delicacies, take a look at our blog: What Are Some Famous Wisconsin Foods? You'll be eating like a local in no time.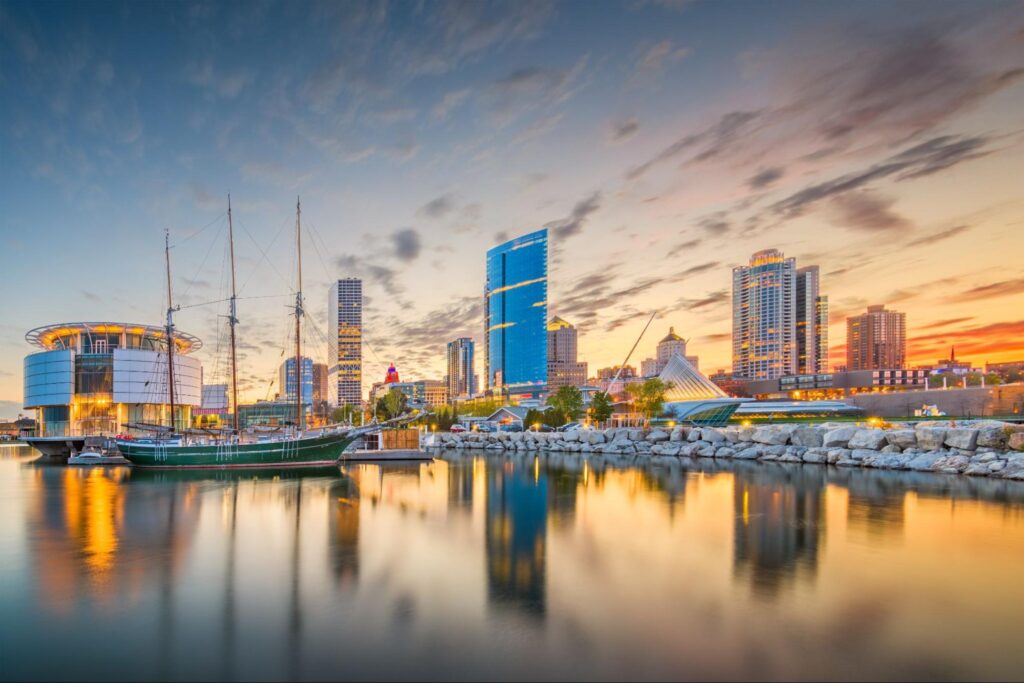 Activities Along the Milwaukee RiverWalk
There are plenty of activities to enjoy along Milwaukee's RiverWalk, from art and craft beer to outdoor activities and music. We've rounded up a couple of activities for you to try along its banks in between eating, drinking, and walking.
Boat Tours
Experience the beauty of the Milwaukee River from a different perspective by taking a boat tour. Choose from a variety of options, including historical cruises, architectural tours, or sunset cruises that showcase the city's skyline.
Get a unique vantage point of the Riverwalk and learn more about Milwaukee's history and architecture.
Kayaking and Paddleboarding
For a more active adventure, rent a kayak or paddleboard and explore the river at your own pace. Experience the tranquility of the water and soak in the city's natural beauty. There are several companies that offer rental services and guided tours for both beginners and experienced paddlers.
Biking
The Riverwalk is bike-friendly, and you can rent a bicycle to explore the scenic path. Pedal along the river's edge, passing through parks and enjoying the fresh air.
Fishing
If you're an angler, the Milwaukee River offers excellent fishing opportunities. Cast your line and try your luck catching a variety of fish species, including salmon, trout, and bass. Make sure to obtain the necessary fishing licenses and familiarize yourself with local regulations before casting off.
RiverSculpture!
As we mentioned, the RiverWalk is home to an outdoor art gallery — RiverSculpture! that includes permanent and temporary installations that change periodically. As you stroll along the RiverWalk you can enjoy local, regional, and national art, from small, whimsical sculptures to larger pieces.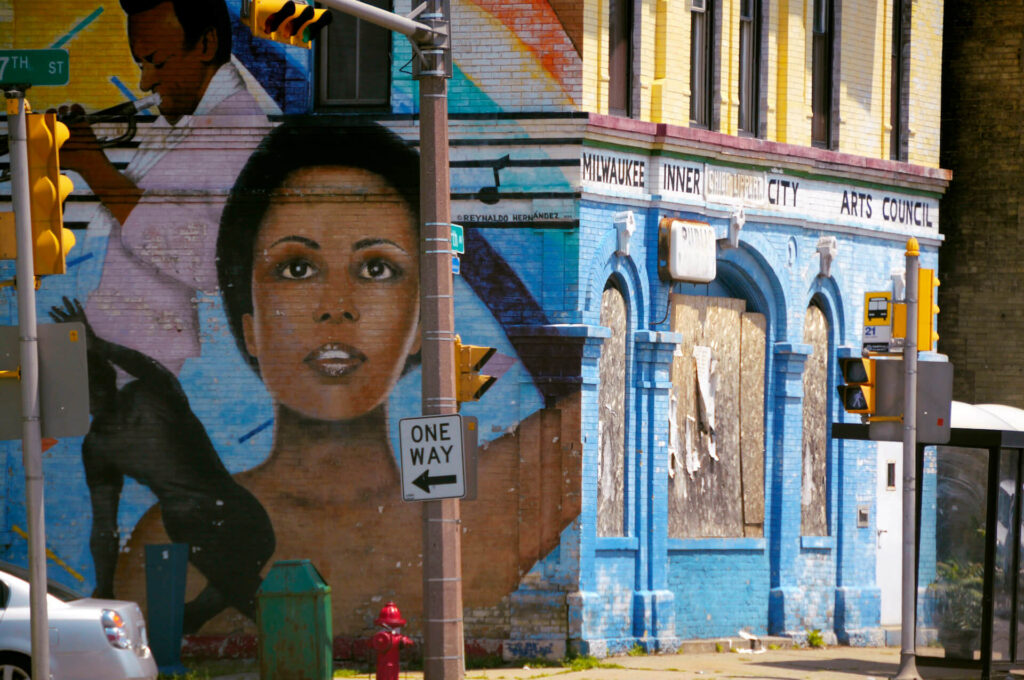 Milwaukee Street Art (Source | License)
Seasonal Events on the Milwaukee RiverWalk
The RiverWalk comes alive with events throughout the year. From summer concerts and art festivals to winter ice sculptures and holiday lights, there's always something happening along the RiverWalk!
Check the city's event calendar to see what's taking place during your visit. Some popular events include River Rhythms, a free outdoor concert series, and Gallery Night and Day, an art extravaganza that showcases local artists and galleries.
Kayaking in the Milwaukee River (Source | License)
Milwaukee's RiverWalk offers a blend of history, culture, dining, and outdoor activities. Whether you're strolling along the water's edge, enjoying a meal with a view, or immersing yourself in the city's vibrant atmosphere, the RiverWalk provides a unique experience for visitors of all interests.
Take the time to explore its highlights, indulge in its culinary offerings, and participate in the various activities and events that make the RiverWalk a beloved destination in Milwaukee.
If you want to explore even more of the city, including brewery tours, escape rooms, and guided art tours, check out our Milwaukee adventures. Perfect for group activities or couples, City Tours MKE designs its tours to maximize your enjoyment as you get to know our awesome hometown.
If you have any questions about the RiverWalk or any other Milwaukee landmarks, just get in touch! Our team is happy to help you as you explore this area and beyond.