Make your winter trip to Milwaukee magical by visiting all the best attractions to see in the colder months.
As the seasons change, MKE becomes a winter wonderland! Temperatures can go below freezing, so there's no doubt you'll need a big coat and a warm drink in hand while exploring Milwaukee.
If you are traveling to the city around Christmas, the Christmas Light Tour from City Tours MKE is a wonderful experience for the whole family! This cheerful tour includes 3D glasses to make the sightseeing experience even more special.
Our guide will show you some great things to do in MKE this winter.
Winter Farmers' Markets
The farmers' markets in Milwaukee don't stop when the first snow falls. Several operate throughout the winter season, bringing shoppers tasty local produce year-round. Artisanal cheeses are popular, as well as handmade crafts.
The Milwaukee Winter Farmers' Market at the Mitchell Park Domes and the West Allis Farmers' Market are two well-loved options to explore. Filled with a diverse array of locally-produced goods.
The city's thriving winter food scene is not to be missed, especially if you are a bit of a foodie.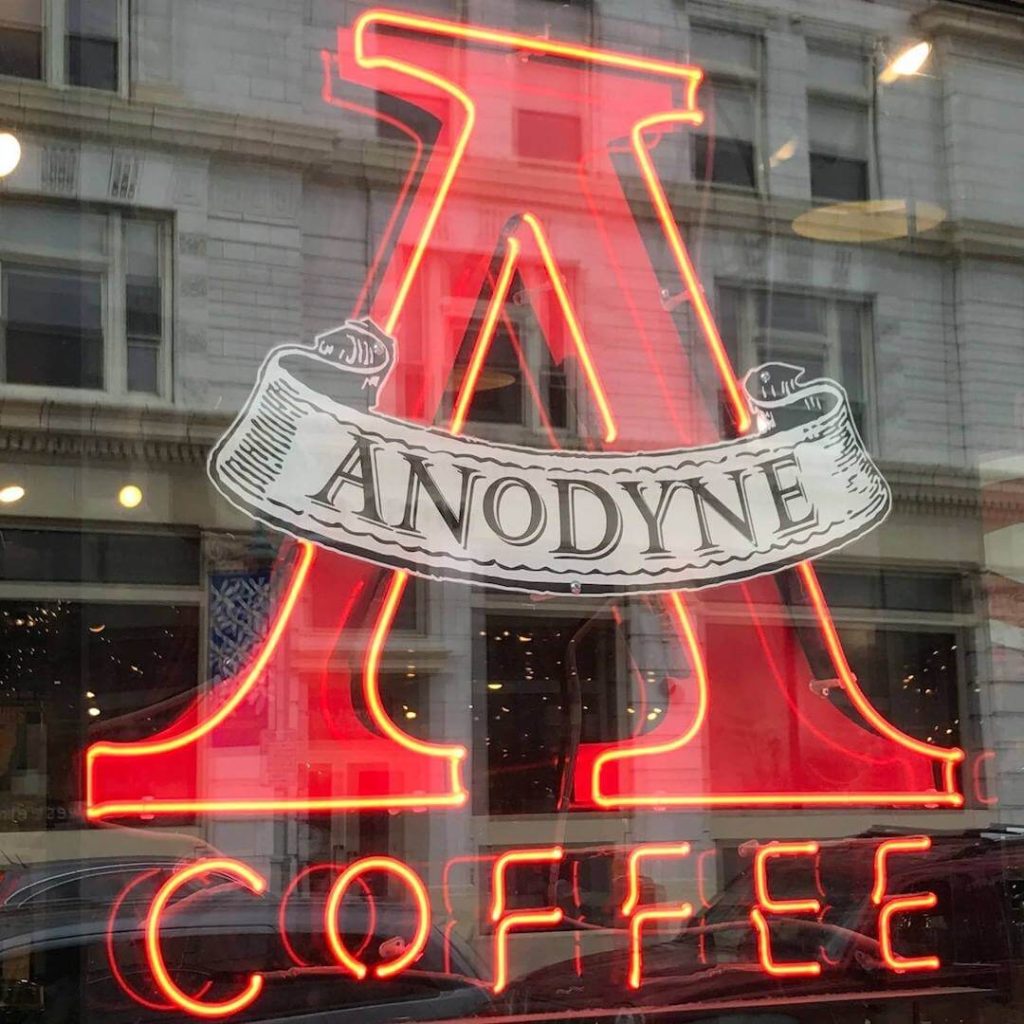 (Source: Anodyne Coffee Milwaukee)
Getting Cozy at Local Cafes
When the outside temperatures start to bite, the cozy glow of a cafe is very tempting. Warm beverages, good company, and even a tasty pastry to warm you up — heaven!
MKE has a thriving cafe culture. Milwaukee Magazine has compiled this Guide to Milwaukee Coffee Shops with 18 'top spots' to visit. Whether you're after a creative cold brew or a simple cup of Joe, there's something for everyone.
Milwaukee's Dining Scene
Winter is the best time to enjoy hearty comfort food, and MKE is bursting with flavors from around the globe – everything from upscale restaurants to small neighborhood diners.
Milwaukee is one of the best places to experience the delicious food that Wisconsin has to offer. You'll find a variety of dishes available across the city, much of which centers around seafood due to the city's location on Lake Michigan.
Be sure to savor local specialties such as fish fry and cheese curds!
If a tasting experience sounds right up your street, City Tours MKE has a fantastic Milwaukee Wine Tasting and Chocolate Experience. 
(Source: Milwaukee Public Museum)
Milwaukee Public Museum
Museum visits and cold wintery days go hand in hand. Escape the chillier climates and dive inside the Milwaukee Public Museum to enjoy captivating exhibits ranging from natural history to anthropology. Educational and entertaining.
The museum houses more than 4 million priceless objects and specimens. You can visit Africa, the Arctic, Asia, South and Middle America, Europe, the Pacific Islands, and the Costa Rican rainforest.
There are also free-flying butterflies from around the world in a 76-degree indoor garden.
You can even step back in time to turn-of-the-century Milwaukee! Or, take a big leap back in time to see the world's largest-known dinosaur skull and a life-sized replica of Tyrannosaurus rex.
Ice Skating at Red Arrow Park
In the heart of downtown Milwaukee, Red Arrow Park has an outdoor skating rink surrounded by the city's skyline. Lace up your skates and head on out for some winter fun.
This is the perfect activity for your winter vacation and something that can be enjoyed with families, groups of friends, or a great date for couples. Skate rentals are available for those who don't have their own.
In the warmer months, Red Arrow Park turns into a roller skating rink, so you can keep skating when the temperatures rise again!
Brewery Tours in Milwaukee
MKE is renowned for its brewery heritage, with tours available to take you through the brewing process and sample the tasty end product. With a warm and welcoming atmosphere, this is a great way to spend a few hours in the city.
From craft beers to classic brews, there's something for every beer lover.
City Tours MKE is well-known for our Milwaukee Brewery Tour. Visiting all the breweries in the city would take a very long time, but we'll guide you through a carefully picked selection of favorites in our comfortable electric city cruisers.
The Milwaukee Dive Bar Tour is also a must-have for those wanting to visit the city's hidden gems while rubbing shoulders with locals. Hop on for a great drinking atmosphere and a taste of MKE life!
Winter Sports at The Rock Snowpark
If you've had good food, great beer, and cozy cafes, you can up the adrenaline with a selection of winter sports.
The Rock Snowpark in Franklin is a fantastic place to embrace the snowy season and all the outdoor activities that come with it. Try skiing, snowboarding, and snow tubing fun for all skill levels.
You can Watch a Live Camera of the rock and view snow reports on the website to pick the best day to visit.
We hope this guide to experiencing MKE in winter has inspired you to plan your next trip. While the temperature may drop, the city's spirit remains warm. Bundle up and embrace the season's charm.
Our range of tours has something for everyone, whether you lean more towards culinary experiences or want to learn about the city's haunted history. The City Tours MKE team is always here to help, so please contact us if you have any questions.