When you look at Milwaukee on a map you can see how far north it is, nestled not far from the Canadian border and sitting on the shores of Lake Michigan. This northerly position suggests cold winters…and that suggestion would be right! It definitely gets pretty cold up here.
Lake Michigan mitigates the temperature a little, but the city goes from balmy, hot summers to magically white winters without fail. And we wouldn't have it any other way!
Milwaukee is a wonderful, welcoming city full of things to see and do and it is easy to enjoy a visit here whatever the weather. We've already written about the best places to visit in Milwaukee, but there are some things that are best enjoyed when it's cold outside, believe it or not!
And better yet, here at City Tours MKE, we make the most of our electric cruisers. While in the summer we keep them open-air so visitors can enjoy a cool breeze as they roam, in winter we fit the cruisers up with doors and ensure a warm and cozy experience.
For larger groups, we also make use of a bus so you can enjoy the Milwaukee winter in comfort. But, logistics aside, here are some things you have to do in Milwaukee when it's cold!
What's That Chill in the Air?
While not quite winter weather yet, as October rolls around and everyone starts to get ready for Halloween, the chilly night air definitely sets in. And in Milwaukee, there's a seriously spooky chill in the air!
There's nowhere better to get into the spooky mood than being in one of the most haunted cities in America!
Milwaukee has a storied past so it will come as no surprise to find out that a lot of its stories involve ghosts and urban legends. Our Milwaukee Haunted History City Tour is the tour that began it all for City Tours MKE and we still love sharing all these spooky tales!
Living in a city with such a rich history and many chilling tales, it was impossible to resist sharing this part of the city with visitors. Combining spooky oral histories with some fantastic locations, this is a haunted tour for all ages.
However, if you want to enjoy spirits with your spirits, we also offer a Milwaukee Halloween Pub Crawl Tour. This is the perfect tour for people who need some liquid courage when facing the ghosts of Milwaukee's past. 
Cold Air, Warm Festivities!
If the ghosts of Halloween aren't your thing, then perhaps you should visit when the real winter sets in and twinkling lights fill the air with a special glow. Our Christmas Past, Present, and Future Light Tour is a perfect way to see the city at its wintery best.
This is an interactive experience complete with caroling, seasonal light shows, a trip through history, and an insight into some age-old Christmas traditions. And what better way to experience Christmas cheer than in a city that really experiences winter!
Milwaukee can do picture-postcard Christmases perfectly. Wrap up warm, crunch through the snow, and see the lights glitter all around you.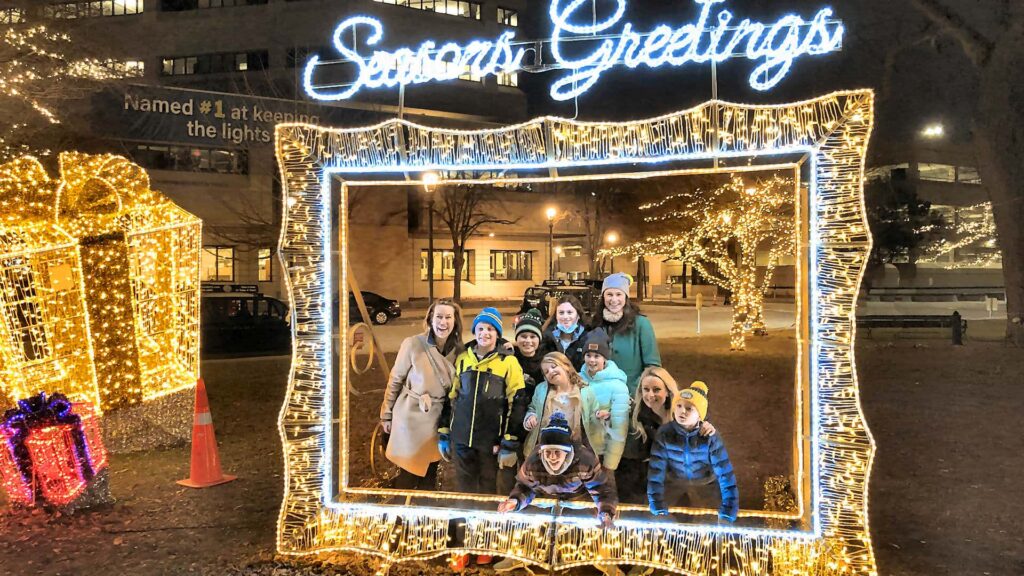 A Place for All Seasons
Essentially, Milwaukee is a place that is perfect to visit at any time of the year. You can come for the specialist tours, but if you want a winter break and you want to get the most out of Milwaukee, seasonal festivities aside, then our Experience MKE Tour has you covered.
You can really get to know all the things that make this city great from its art and architecture to its brewery and bar districts. You can visit the lakeside, explore bike trails, check out Harley Davidson, enjoy museums, hotels, Milwaukee's famous cheese… the list goes on.
This is a city that rewards deep exploration and if you come here once you're probably going to want to come back again!
Milwaukee winters are perfect for sharing laughs and drinks with your friends. We are, after all, known as Brew City. Need to warm up even more? There's nothing better than a rousing round of karaoke to lighten the mood and warm the spirits!
Winter in Milwaukee Isn't Bad, But Beautiful!
So there you have it! Winters in Milwaukee can get exceptionally cold, we'll admit that. But the people and the experiences the city offers are sure to keep your spirits warm.
Wrap up in your favorite scarf, bring a woolly hat and some colorful mittens, and don't forget your favorite bright winter coat to combat cold. Bring your nearest and dearest and come see this amazing city as it sparkles, icy, under its lights.
If any of our tours have piqued your interest, or if you want to ask us any questions, then please get in touch. Milwaukee is waiting for you!