Milwaukee is a city that certainly makes the most of its nightlife! We are spoiled for choice with countless comedy clubs, speakeasies, and dive bars.
You can dance the night away in our exciting clubs or take it easy in one of our laid-back jazz joints; whatever you feel like getting up to on a Milwaukee evening, there's something for everyone.
While you're here, we love to have you join us on our Milwaukee Sightseeing Tours! And, if you have any questions about your visit to Brew City, please don't hesitate to get in touch.
For now, we'll share some of our favorite things to do in Milwaukee at night so you can start planning!
Learn About Milwaukee's Jazz History
Did you know that Milwaukee was once a hub for Jazz in the 20th century? So much so that our city was also referred to as "Bronzeville."
The popularity of Jazz swept the nation in the 1930s, reaching Chicago and then spilling over into Milwaukee.
We're so grateful it did, as we love how Jazz has shaped the musical landscape of Milwaukee. Here's one of our favorite Jazz bars to get you started.
Caroline's Jazz Club
Visit Caroline's Jazz Club to travel back in time, enjoy foot-tapping tunes, and receive an old-school bartender service.
As soon as you enter Caroline's Jazz Club, you're immediately transported to the Jazz heyday of the 1940s and 1950s.
The venue boasts stained glass windows and floral green carpeting and is topped off with thick maroon curtains framing the stage.
The two-person tables are dotted around the venue – illuminated under candlelight.
Try out the 360 bar with dapper bartenders who can make any drink you ask for; as is a tradition in old-school bars, there isn't a drinks menu. So go wild!
Go Undercover at SafeHouse
Shh! SafeHouse needs to be kept under wraps; it's the only spy-themed bar and restaurant.
Safehouse doesn't serve customers. Instead, they serve agents and will only grant entry to those who know the secret password.
Succeed at the mission, and you'll get to try out their impressive selection of cocktails.
We recommend their mission Impossible cocktail, a heady mix of rum, orange, lemon, pineapple, and grenadine.
Or perhaps the Spies Demise takes your fancy, a Milwaukee spin on a Long Island topped with blackberry liquor and Pepsi.
Get Your Laughs in at a Comedy Club
Milwaukee is lucky to have a vast range of comedy clubs, but here are two of our favorites for a fun night out in Milwaukee.
The Laughing Tap
The Laughing Tap is the home of comedy in Milwaukee.
It's a comedy club run by comics for comics and comedy fans. This ethos shines through when you spend an evening here.
The Laughing Tap showcases local talent and national headliners, and you're guaranteed an evening of laughing till you ache!
In true Milwaukee fashion, they have an excellent range of craft beers. If a beer doesn't strike your fancy, they have plenty of liquor, cocktails, wine, ciders, and a large selection of alcohol-free beverages.
ComedySportz Milwaukee
ComedySportz Milwaukee is something totally out of the left field, and we love it. When in Brew City, you have to attend a ComedySportz Match.
You can expect to see two teams compete against each other through improvised comedy sketches.
Due to the nature of improvisation comedy, be prepared for a night of randomness and hilarity.
Also, sometimes they'll pluck a volunteer from the audience to participate, so be prepared!
Go On a Dive Bar Tour With Us!
Want to feel like a local during your visit to Milwaukee? Join City Tours MKE for an actual Milwaukee beer tour at the best dive bars! We'll take you to our favorite local haunts for plenty of brews and a great time.
We pride ourselves on finding gems hidden in plain sight here in Milwaukee. So we'll guide you through the gritty to quaint to old-school for an authentic MKE experience.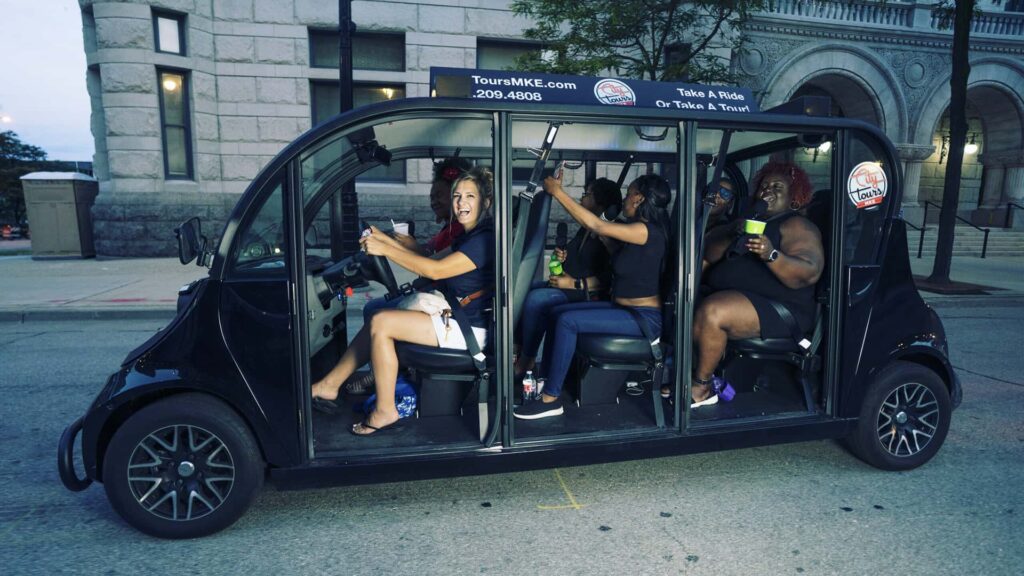 Fill Your Boots at a Milwaukee Eatery
Milwaukee is passionate about locally-sourced ingredients; it's the norm for MKE restaurants to only serve local ingredients.
We've got you covered whether you're lining your stomach for a night out or need a greasy breakfast to recover from the night before.
Kopp's Frozen Custard
Founded in 1950, Kopp's Frozen Custard has two specialties: freshly made frozen custard and jumbo custard. Imagine how good that combo would taste after a night out!
Their Dinosaur Tracks Sundae is a must-try. This epic concoction will keep you going for more fun with three scoops of Swiss Chocolate Custard, topped with Peanut Butter, Fudge covered peanuts, and malt powder.
If you feel like starting with a hot lunch, their Chicken Caliente is a perfect choice.
Uncle Wolfie's Breakfast Tavern
Uncle Wolfie's Breakfast Tavern is the perfect place to go to nurse your hangover; it's a firm favorite amongst tourists and alike!
Nurse your sore head with Peaches and Cream Oatmeal. The sugar rush will jump-start your day with caramelized peaches, peach liquor, sweet creme fraiche, and snickerdoodle cookie crumble.
Hit the Clubs
There's no better way to see what a city is truly like than to experience its nightlife. Whether it's live music, bars, or clubs, it says a lot about a town in how they like to party.
Here are some of our favorite MKE clubs to kick off your night with a bang.
Jynx Milwaukee is a brand new nightclub located in the heart of Walkers Point on 5th and National; they pride themselves on showcasing MKE's hottest DJs.
If you're feeling like pulling out the stops, book one of their VIP sections to enjoy a special beverage (or a few) with friends.
Lucid Lounge is also a great place to party with the Milwaukeeans. This dance club has an ever-changing rotation of DJs, so you don't have to worry about hearing the same song twice.
Lucid Lounge also claims they have the best dance floor in town; don't believe us? Find out for yourself!
We hope you're feeling inspired to go downtown to experience Milwaukee's exciting nightlife.
As you're here, please take a look at our history, food, and brewery tours of Milwaukee. If you have any questions at all, please get in touch.