Want to plan a date night to remember with that special someone? Perhaps you're looking for the perfect location to pop the question or just want to show them how much they mean to you. Whatever your reason, make sure to celebrate your love in Milwaukee, a popular city break for lovebirds.
This gem of Wisconsin boasts museums, an impressive skyline, and world-famous breweries. Milwaukee is the perfect place for a couple to spend quality time together.
Learn why Milwaukee is called Brew City, find out about a cute date spot, and be inspired to visit the city's most haunted areas.
Want to experience the city like a local? At City Tours MKE, we pride ourselves on showcasing the best of our city. Take a look at our Milwaukee sightseeing tours, and if you'd like to learn more about the tours we offer, please get in touch.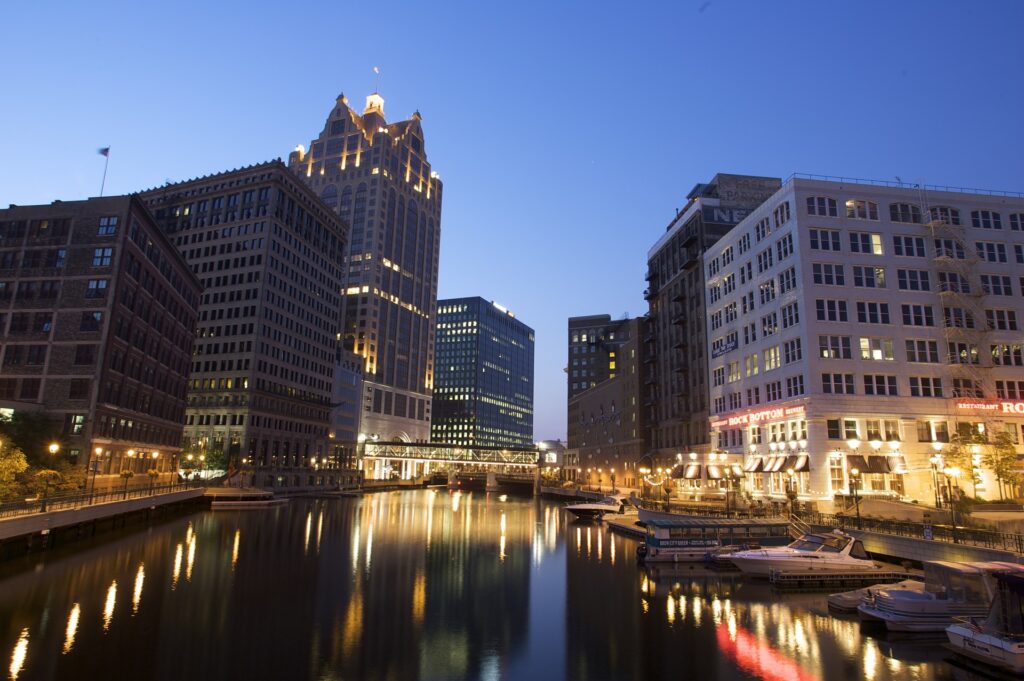 Grab a Beer in the World-Famous Milwaukee Breweries
We are passionate about Milwaukee's history at City Tours MKE, particularly our city's long-standing relationship with beer.
Grab your sweetheart and journey through the city together in our eco-friendly cruisers, making a stop at each brewery on the way! At each stop, we'll get to sample some of the beers and learn a little bit about the beer manufacturing process.
While you're in Milwaukee, it's a must to try Snake Oil Nitro Stout, Harry Cherry, or a Spare Time.
Impress your significant other by recommending these beers and take a refreshing journey with us on the Milwaukee Brewery Tour to learn why Milwaukee is also called Brew City!
Get Competitive with a Retro Arcade Date Night
Head on down to the UpDown Bar and Arcade for a night of retro arcade games, delicious snacks, and the city's specialty craft beer.
A date night at an arcade is a perfect way to spend a rainy afternoon. Spend quality time together and maybe even sweep your loved one off their feet by winning them a traditional arcade prize!
Try UpDown's skeeball alley, get nostalgic with Nintendo 64 games or become a pinball wizard thanks to the arcade's 90s pinball machines.
The great thing about UpDown Bar and Arcade is that they regularly change their games line-up, so there's always something new to try!
Enjoy a Fun Night of Bowling
Looking for more opportunities for good-natured competition with your date? Check out one of Milwaukee's many excellent bowling alleys.
The Holler House on  W. Lincoln Avenue is a family-run bar that's open to the public since 1908. Named by Esquire as one of the ten best bars in America four years in a row, the Holler House offers bags of old-school charm. Its two bowling lanes are a throwback to a bygone era – unlike anywhere else.
Meanwhile, Landmark Lanes is a larger bowling space perfect for any double dates you might have planned. Finally, Koz's Mini Bowl is the last duckpin bowling alley in the U.S. — try this classic variation of bowling. Koz's also gives an insight into the city's past, with the building having operated continually as a saloon/bar since 1888!
Visit the Harley Davidson Museum
Is there anything more romantic than riding away together in the sunset? While we can't promise a ride away into the sunset, we can promise a chance to bond over one of America's longstanding loves: the Harley Davidson motorcycle.
Milwaukee is the birthplace of the Harley Davidson motorcycle, and perhaps arguably where the pursuit of the great American open road began!
Explore its exhibits detailing its humble beginnings to a world-famous motorcycle. Also, check out its whopping collection of 450 motorcycles – each one showcasing the journey of Harley Davidson.
Make sure to head over to the Experience Gallery and hop on one of the bikes for a perfect photo opportunity. Learn about how the bikes are made in the Engine Room and even design your own dream bike at the Build-A-Bike display.
Whether you're born to be wild or mild, the Harley Davidson Museum is a super fun place for couples.
Go on a Ghost Tour in Milwaukee…If You Dare
Did you know that Milwaukee is said to have more ghosts per square mile than anywhere else in America?
So here's one spooky spot to get you started.
BOO! Did we scare you? Good.
Seven Bridges Trail in Grant Park
Seven Bridges is a beautiful location by day, great for picnics and a stroll in the sunshine. At night, however, it's an entirely different story.
Many have seen a ghostly apparition in Grant Park of a lady searching for her missing children. According to local lore, her children drowned in the depths of Lake Michigan, so she spends the twilight hours searching for them.
Others claim to have seen a mist encompassing the park's bridge and even heard disembodied footsteps when crossing the bridge.
If you're feeling brave, join us on our Milwaukee Haunted History City Tour and let's see if you spot her yourself! It's the perfect chance for couples to hold on to each other if you get scared!
This ghost tour holds a special place in our hearts as it's our flagship tour. It's where City Tours MKE began!
Watch a Brewers Game at American Family Field
Just as you can't come to Milwaukee and not experience our beer, the same applies to watching our home team, the Brewers, play.
Come along to watch America's favorite game in Milwaukee's state-of-the-art stadium, with a convertible roof and plenty of front row seats!
Perhaps you're considering joining the tradition of a baseball game proposal? In recent years, the jumbotron proposal has skyrocketed in popularity and is a great way to tell thousands of people that you're in love.
Top Tip: Keep an eye out for our Brewers mascot, Bernie Brewer. Each time a Brewer hits a home run, Bernie slides down a yellow slide and fireworks go off.
Remember to try a brat at the baseball game; we advise you to try the beer cheese brats and ask for the secret stadium sauce!
Embrace Your Creative Side at Milwaukee Art Museum
The Milwaukee Art Museum is your one-stop-shop for everything art in Milwaukee. This impressive museum has over 40 galleries and over 30,000 pieces of art.
The Milwaukee Art Museum is an iconic part of Milwaukee and is home to everything including sculptures, prints, drawings, and photographs.
Keep an eye out for world-famous artists such as Andy Warhol, Pablo Picasso, and Wisconsin's own Georgia O'Keeffe.
Bring along some sketch pads and draw what you see, or maybe find your date's doppelgänger in the artwork! Or just enjoy basking in the creative genius held within the Milwaukee Art Museum's walls.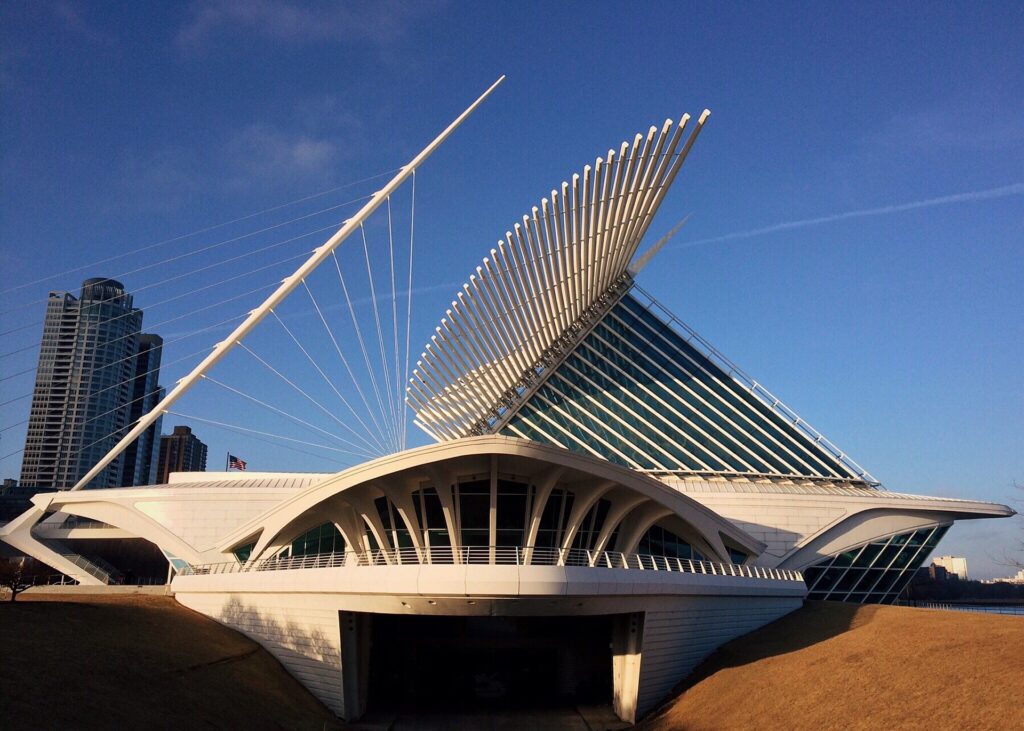 Take a Romantic Stroll through Lakeshore State Park
Lakeshore State Park stretches over 12 miles in downtown Milwaukee. The park is an urban oasis dividing the city and Lake Michigan.
Take a stroll through its micro beach and make sure to relax in Wisconsin's only urban park.
Top tip: Take a trip to Lakeshore State Park in the evening for a romantic stroll illuminated by Brew City's skyline.
Dine at The Pasta Tree Restaurant & Wine Bar
Widely regarded as one of the most romantic restaurants in Milwaukee, The Pasta Tree offers up some of the best Italian food you'll find in Wisconsin. The Pasta Tree takes a "seed to table" approach, working with local farmers and food producers to ensure your meal is prepared with the freshest seasonal produce. 
An ideal setting for a first date, anniversary, or even proposal, The Pasta Tree guarantees a cozy atmosphere and a satisfying menu of classic Italian dishes.
Rent a Swan Paddle Boat in Veteran's Park
Swans are the ultimate symbol of romance; these winged beauties mate for life. So there's no better way to celebrate your sweetheart than to paddle out in the Veteran's Park lagoon in a Swan Paddle Boat.
Why not rent our swan boats after dark if you want to take the romance up a notch. Cozy up next to your date under the illuminated paddle boat for that extra sparkle.
Grab a Cocktail at a Secret Pub
Shanghai is Milwaukee's newest speakeasy. Impress your date by showing them one of the most exciting and underrated bars in Brew City!
The atmosphere in Shanghai is intimate, with candlelit tables making it the perfect date-night spot. Try their one-of-a-kind curated cocktails, craft beer, and fine wine selection.
There you have it, we hope you and your significant other enjoy all that Brew City has to offer. If you'd like to learn more about our Milwaukee City Tours please get in touch.