It's no secret that Wisconsin is the dairy capital of the US. The state is home to over 1,200 different cheesemakers, each of whom contributed hundreds of years of experience to the place now known as the Dairy State.
But if you're visiting for the first time, you may want a little help seeking out some gourmet souvenirs. That's why we've put together a blog on the best cheese in Wisconsin to help you out! We've got you covered from must-try snacks to where to buy great local cheeses.
At City Tours MKE, we love nothing more than sharing the sights of our hometown of Milwaukee with visitors from across the world. Whether you're interested in street art, dive bars, microbreweries, or the city's classic landmarks, our Milwaukee Tours take it all in.
If you're looking for some destination inspiration ahead of your trip to Wisconsin, check out our local's guide to the best things to do in Milwaukee. Need a little more info? No problem! Get in touch with our local team who will be happy to help curate your adventure.
Famous Cheeses of Wisconsin
While there are plenty of Wisconsin cheeses to try, we've selected a few of our favorites to give you a flavor of what to look out for. With so many to choose from, there is certainly a Wisconsin cheese that is sure to satisfy your taste buds.
Wisconsin Cheddar is a Delicious Staple Cheese
Wisconsin produces over 50% of all cheddar cheese in the United States, making it the most famous Wisconsin cheese. Cheddar cheese is a hard, smooth-textured cheese that ranges in flavor from mild to sharp.
Cheddar cheese can be aged for several months or even several years, which gives it a distinct flavor profile. The longer it is aged, the sharper and more complex the flavor becomes. In Wisconsin, you can try many cheddars, from white cheddar to cheddars flavored with apple and cinnamon, or cherries.
Colby Cheese is a Must-try Creamy Wisconsin Staple
Colby cheese was invented in Wisconsin in the late 1800s and is a mild, semi-hard cheese that is similar to cheddar but has a softer texture. It is often used as a substitute for cheddar in dishes like grilled cheese or cheeseburgers.
Colby cheese is usually aged for just a few months, which gives it a mild, buttery flavor. Originating in — you guessed it! — Colby, Wisconsin, this cheese is made with a washed-curd process rather than through the cheddaring process, making it a semi-hard alternative.
Colby-Monterey Jack is a Unique Wisconsin Fusion Cheese
This unique, marbled cheese combines Colby and Monterey Jack, two delicate and mild varieties, to create a subtly flavored hybrid that's great for melting. First made in 1979 at Arena Cheese, one of Wisconsin's oldest factories, this fusion has been going strong (or mild) ever since.
Co-jack Cheese (Source | License)
Swiss Cheese is a Wisconsin Hole-in-one!
Swiss cheese is known for its distinctive holes or "eyes," which are formed during the cheese-making process. Wisconsin produces a variety of Swiss cheeses, often rindless, including baby Swiss, which is a milder version of traditional Swiss cheese.
When Swiss immigrants first arrived in Green County, Wisconsin, they brought their traditional cheese-making techniques with them. Baby Swiss is an American spin on the classic, which is only aged for a month, which makes it great for melting.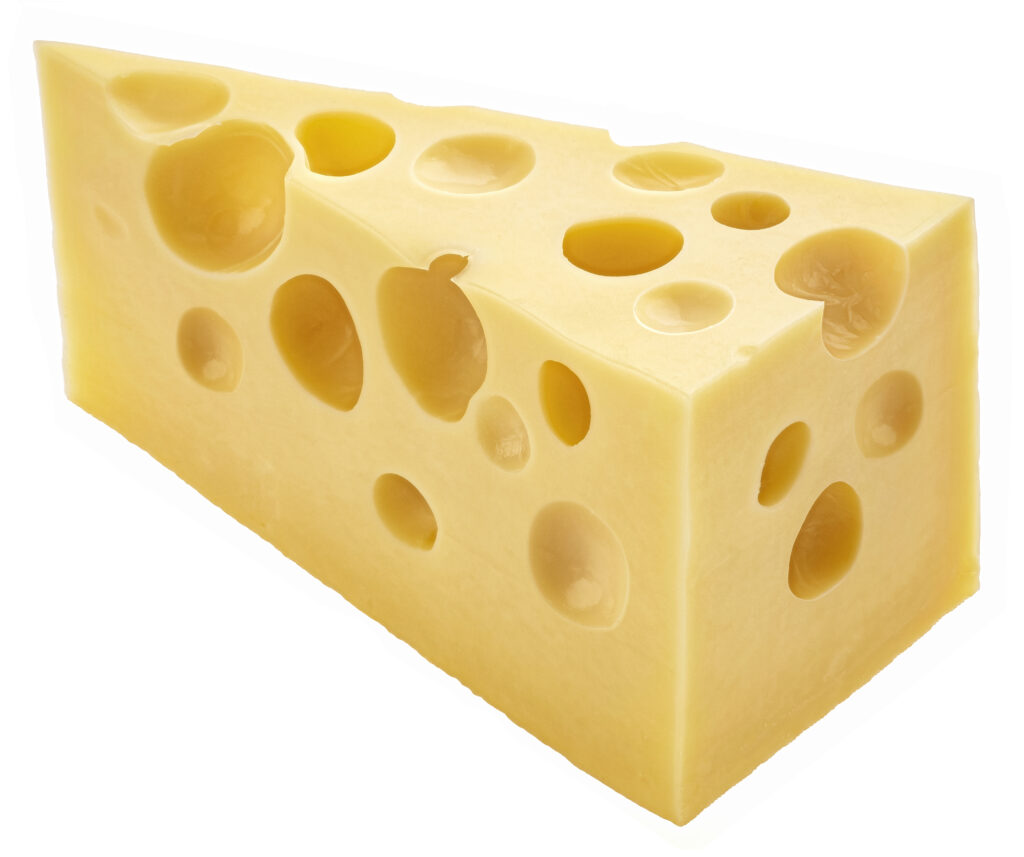 Limburger Cheese is a Pungent Wisconsin Delight
This powerful cheese has been at home in Wisconsin since the 1800s. Brought over by German immigrants, this cheese originates in Limburg, Belgium. Not for the faint of nostrils, this cheese packs a punch in flavor and scent. It is semi-soft and earthy to taste.
Where to Find the Best Cheese in Wisconsin
Wisconsin cheese can be found in many grocery stores, specialty food stores, and farmers' markets across the state. You can also purchase Wisconsin cheese online from stores like Usinger's, Kates Cheese, Clock Shadow Creamery (our neighbors!),BelGioioso Cheese, and Carr Valley Cheese, to name a few.
Many Wisconsin cheese factories offer tours and tastings, allowing visitors to learn about the cheese-making process and sample some of the state's most famous cheeses. Some of which are:
Carr Valley Cheese: Located in La Valle, Carr Valley Cheese produces over 100 varieties of cheese and offers tours of its facility.
Clock Shadow Creamery: Located in our very own Walkers Point Neigborhood, Clock Shadow Creamery offers tours of their cheese curd factory.
Henning's Cheese: Located in Kiel, Henning's Cheese is a family-owned and operated cheese factory that offers daily tours and tastings.
Widmer's Cheese Cellars: Located in Theresa, Widmer's Cheese Cellars is known for its brick cheese and offers tours of its aging cellar.
Roth Cheese: Located in Monroe, Roth Cheese offers tours of its state-of-the-art facility and features a retail store where visitors can purchase cheese and other products.
Cheesy Snacks to Try in Wisconsin
Local Wisconsinites love their cheese, and we have several traditions that revolve around it. Cheese curds are a favorite snack in the state, as well as fried cheese sandwiches served with marinara sauce.
Wisconsin also hosts an annual cheese festival, where local artisans showcase their award-winning cheeses. There are also plenty of cheese tours, classes, and special events, so there's always something new to discover in the world of Wisconsin cheese.
We hope this blog has clued you into the thriving cheese scene in Wisconsin. While we've rounded up some of our favorite dairy delights, the only way to experience the cheese scene in Milwaukee is to come and try it for yourself!
Not only are these staple cheeses great to taste in a variety of meals, but they also speak to the rich history of immigration and the cultural heritage of Wisconsin. From Swiss cheese to Limburger, these delicious chunks of cheese are living history!
As always, get in touch with us if you have any questions — cheese-related or otherwise. The team at City Tours MKE is here to help your visit go smoothly. We even offer custom tours and rentals so you can see Milwaukee your way and in your own time. We hope to see you soon!