Being a naturally sociable and excitable bunch, Christmas is our favorite time of year! We can't help it. As soon as the Christmas lights go up, we're filled with winter cheer.
It's time to wrap up in your coziest clothes and spend plenty of time enjoying holiday activities with your nearest and dearest.
Whether you're looking for unique Christmas activities for you and your work colleagues or searching for something magical for the kids, we've got you covered. Join us as we explore some of the best things to do in Milwaukee this Christmas.
And if you're in charge of organizing the office party or need to entertain family coming in from out of town, be sure to explore our Milwaukee Corporate Activities and Custom Tours & Rentals pages.  
See the Christmas Lights
If the blooming of flowers signifies the beginning of spring, the switching on of Christmas lights signifies the beginning of the winter holiday season!
There's simply no better way to get in the Christmas mood than to take in the dazzling array of lights and decorations found downtown.
From November 16th, the Milwaukee Holiday Lights Festival will sprinkle Christmas cheer over central Milwaukee, and from the end of November, BMO Harris Bank on Water Street will show off its famous annual window display, which they've been organizing for more than 50 years.
Meanwhile, you can head to Candy Cane Lane in West Allis to partake in a Christmas tradition that's been running since 1984. At Candy Cane Lane, you can admire a residential street that beams with marvelous Christmas decorations. 
And by supporting Candy Cane Lane, you'll help the residents raise money for the MACC Fund (Midwest Athletes Against Childhood Cancer, Inc.). In 2021, they raised nearly $160,000!
If you'd like to join City Tours MKE for a festive tour this season, you can take our Milwaukee Christmas Light Tour. After picking you up from a venue on the lakefront, our guide will meet you with 3D glasses that will transform your experience into something truly special.
We guarantee an evening of caroling, Christmas hits, good cheer, and caroling and colorful photo opportunities.
Red Arrow Park's Slice of Ice
Skate on a refrigerated rink bigger than the Rockefeller Center! Yes, in Red Arrow Park, up to 100 skaters can be accommodated on the rink at any one time.
The rink is free for those with their own skates. Otherwise, ice skates and polar pals (skating supports) can be rented on-site.
There is also the free use of ice sleds for guests with mobility disabilities.
Please check the official Slice of Ice website for this year's dates and opening hours. 
Enjoy a Milwaukee Chocolate and Wine Experience
It's Christmas time. That low-sugar, ketogenic, or intermittent fasting diet plan can be put to one side. Indulgent food and Christmas go together like peanut butter and jelly.
So…embrace it. We've crafted a tour dedicated to two of our favorite things: chocolate and wine.
With our Milwaukee Wine Tasting and Chocolate Experience, you'll sample nine delectable wines and chocolate pairings.
The chocolate is handmade by Milwaukee's Indulgence Chocolatiers, purveyors of chocolate truffles, gourmet bars, and other finely crafted sweet treats.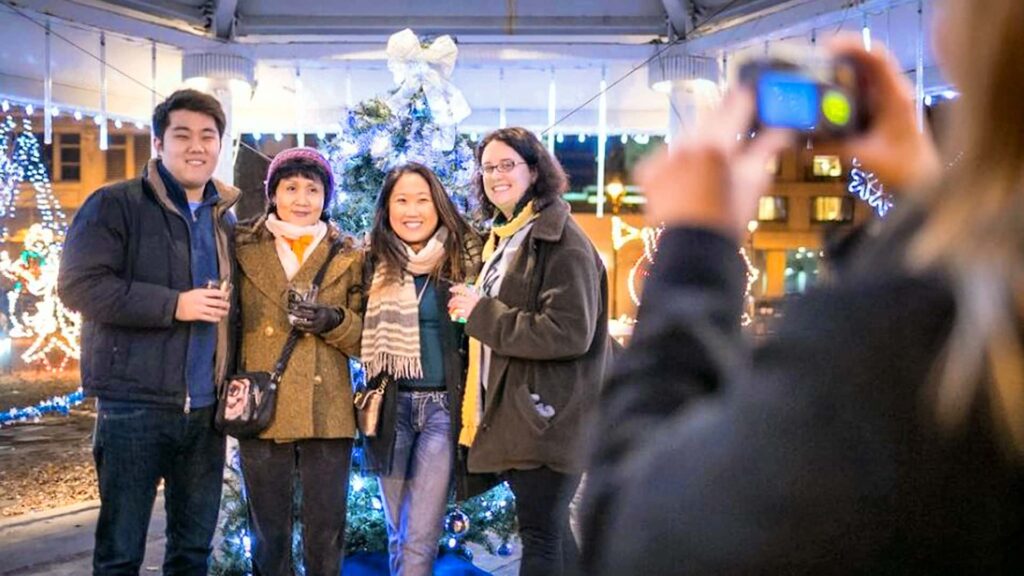 Visit a Festive Show in Milwaukee
A great activity for all the family, visit a joyous theater performance or ballet this holiday season.
Milwaukee Ballet will give its annual performance of The Nutcracker from December 8–26. With Tchaikovsky's matchless score and colorful, sparkling costumes, there's no ballet more suited to wintertime. 
For a play that kids are sure to adore, head to The Best Christmas Pageant Ever: The Musical (November 24–December 24) at the Todd Wehr Theater. The production comes from the First Stage Theater, a Milwaukee children's theater dedicated to teaching life skills through stage skills. 
Finally, we recommend A Christmas Carol at the Milwaukee REP (beginning November 28). There's no Christmas story more timeless than Charles Dickens' ghostly tale and this year's production from the Milwaukee REP promises to be a fantastic spectacle!
Milwaukee Zoo Wild Lights
Our final wintry recommendation is the Wild Lights event at Milwaukee Zoo. Millions of glittering lights will illuminate the pathways and green spaces within the zoo.
There will also be flowing sculptures of various animals, including a gorilla, rhino, and stunning peacock! Perfect for capturing some wonderful family photos. The Wild Lights run throughout December. Check the Milwaukee Zoo website for its opening dates and times. 
This ends our Christmas recommendations for things to do in Milwaukee. If you have any questions, please get in touch.